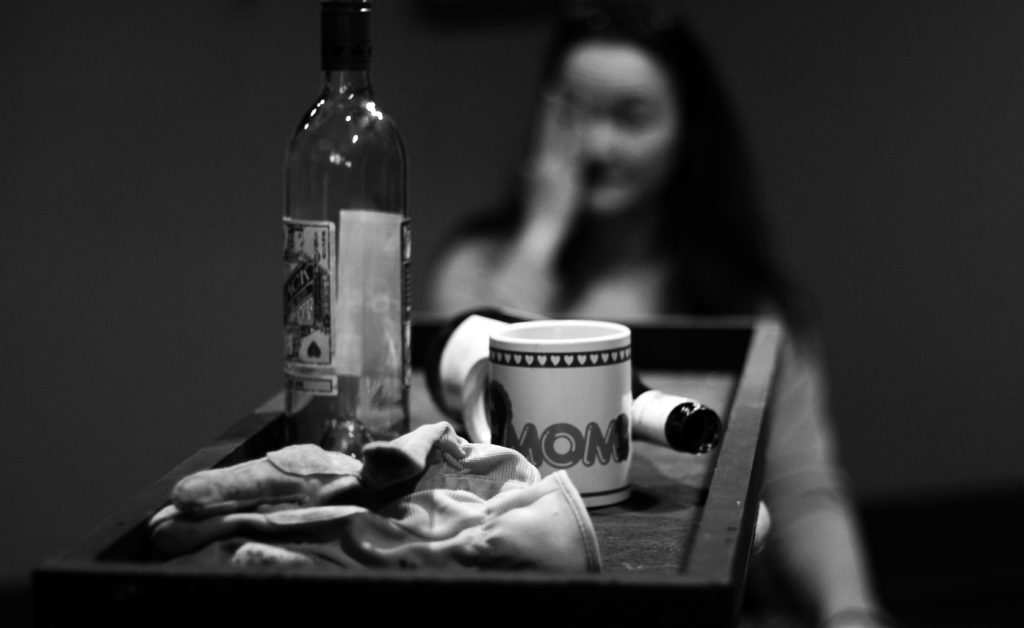 "Not everyone has to become a mother, Megan. The world also needs good aunties." If I could remember what prompted my mother to tell me that when I was a teenager, I might not harbor this suspicion that she thought I'd make a lousy mom. That, in turn, might make me feel a little less like a lousy mom.
Then again, I may just be a lousy mom.
***
My mother died before I had children. In her final years, she continued to downplay the importance of parenthood. "You really don't have to have kids, Megan. It's okay to focus on your career. You don't have to try to do both." I lived three-thousand miles away from her at the time, but we had money problems in common. She could barely afford to stay in an apartment and cover medical care with her disability payments. My husband and I were under a mountain of debt, barely making minimum payments and rent with our entry-level salaries. Her reassurances were a relief.
Less than a year after she died, though, I was pregnant. It seemed like an act of rebellion. "I'll show her. I WILL do both. And I'll like it!" Giving up my career was never an option. I might disregard my mother's advice on kids, but her lessons about making a living were sacrosanct.
***
When I was in junior high I'd sit at the table with my mother every day after school. We'd drink ice tea and she'd lecture me about the importance of getting a college degree, earning my own money, never relying on a man, learning what it took to succeed in an industry and then doing whatever that was with passionate intensity.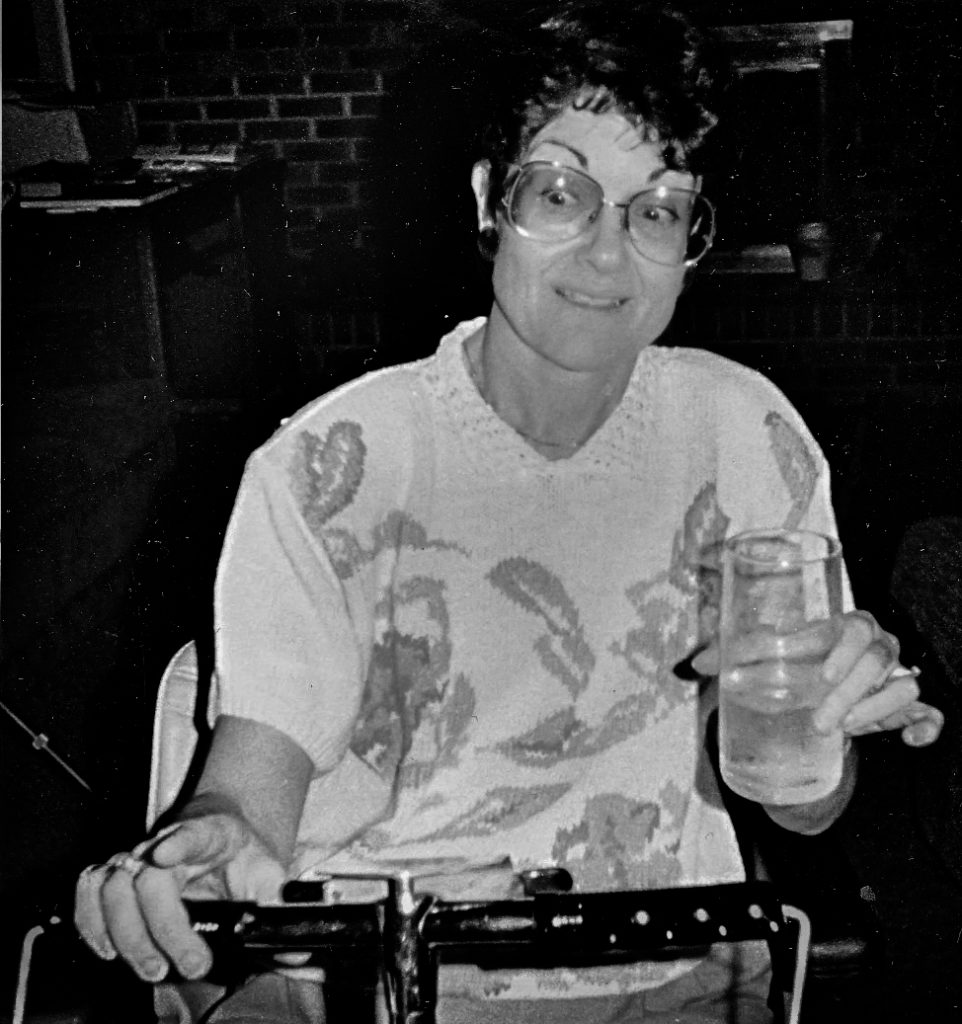 My mother would point out to me that it was only because she got Multiple Sclerosis that she was at home. "If I hadn't gotten sick, I'd certainly still be working." Before she had to take disability retirement, she earned her Masters in Education and considered moving from teaching into school administration to improve remedial instruction.
She fondly recalled the brief time when she worked and my father kept house, back when they lived in Chapel Hill and only had one child, just before I was born. "You know, that was the perfect situation for us. He was so good at homemaking, and I loved having a career."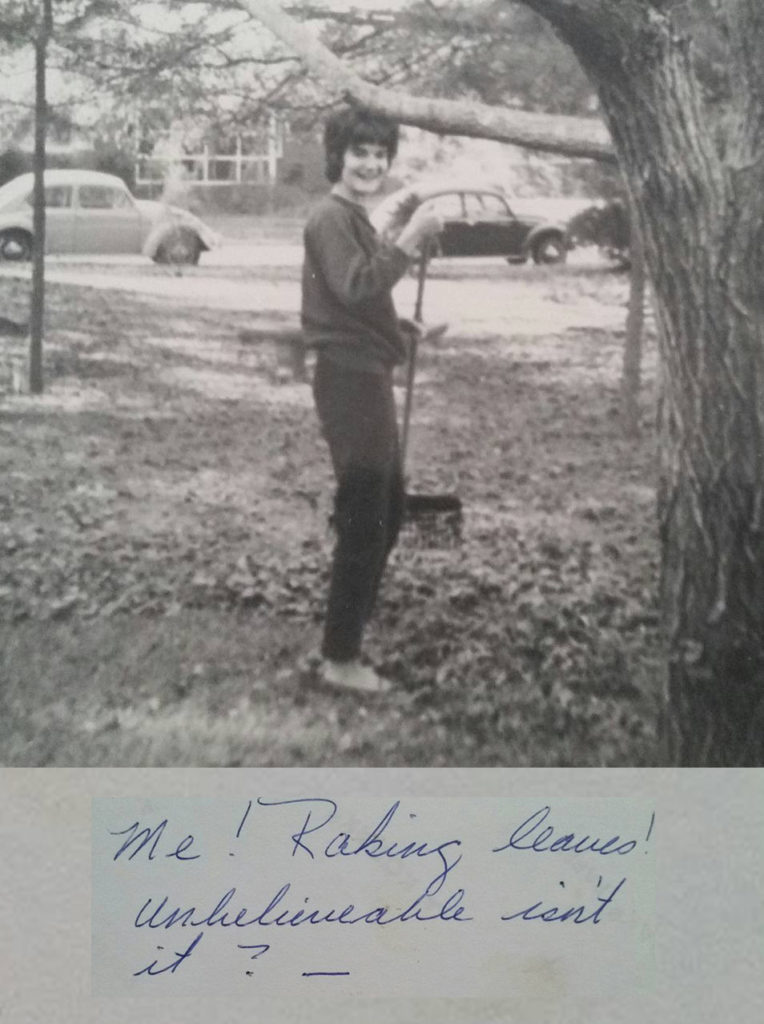 But then I was born, my father took a job at his father's mattress plant, we moved to Hope Mills, and my mother was diagnosed with MS the first week in the new house. To her, the correlation implied causation. To me, it was a cautionary tale.
I concluded that all of the other factors that contributed to our family's crises – my father's bipolar disorder, alcoholism, and hereditary depression, my mother's chronic, degenerative disease, the socio-economic shifts during the 80's and 90's – could have been avoided with better employment decisions. Specifically, NEVER LEAVE A CAREER FOR FAMILY.
Family is unreliable, marriage is vulnerable, love is blind, but a career gives you freedom. I hard-wired that into my brain and made professional success my priority.
At the start of my senior year in college, my boyfriend broke up with me, accusing me of wanting to trap him into a traditional married life. He thought I wanted him to work and take care of me so I could have babies. He said I'd stop him from pursuing his dreams.
Ending the relationship hurt me deeply for many months, but that accusation burned me for decades. There was no greater insult than to say I might be willing to just be a mom. I had dreams too, and they didn't include staying at home with kids.
***
I went back to work full-time when my son was eight weeks old. After my daughter was born, I started working from home only four weeks postpartum. My husband cut down to part-time work: three days a week with the first baby, then just one day a week when I was pregnant the second time. He assumed the primary parent role so I could hold on to my career. I became the breadwinner.
Our situation echoed my mother's best times. According to my teenage judgement, I should have been as happy as my mother remembered she was before I was born.
I wasn't happy.
I also wasn't healthy.
Even though I put my job first, the factors that contributed to my family's crises still affected me. Professional success did not rewrite DNA nor avert socio-economic shifts.
Not only did I have less and less time to see my kids, the stresses of my job drained all my emotional capacity. I couldn't offer them any support through the daily challenges of growing up. I couldn't even offer my husband much. And no matter what, I didn't have anything left over to take care of myself.
I started to crack. Then, I cracked. A debacle to call my own.
As much as I wanted to fulfill the dreams of my fourteen-year old self, and as much as I respected my mother's experience, life didn't turn out the way I planned. I broke up with my career. My husband went back to work full-time. I started part-time consulting. Our family budget took a huge hit, and our lifestyle is exactly what I feared most as a senior in college.
Ever since then I've had time to sit down at the table by myself, with a glass of ice tea, and re-examine what my mother told me. I am now the same age she was when she imprinted the primacy of a professional life. Rather than seeing her as an irrefutable authority – and she had an amazing authority about her – I have tried to see her as a fellow mom, as a peer.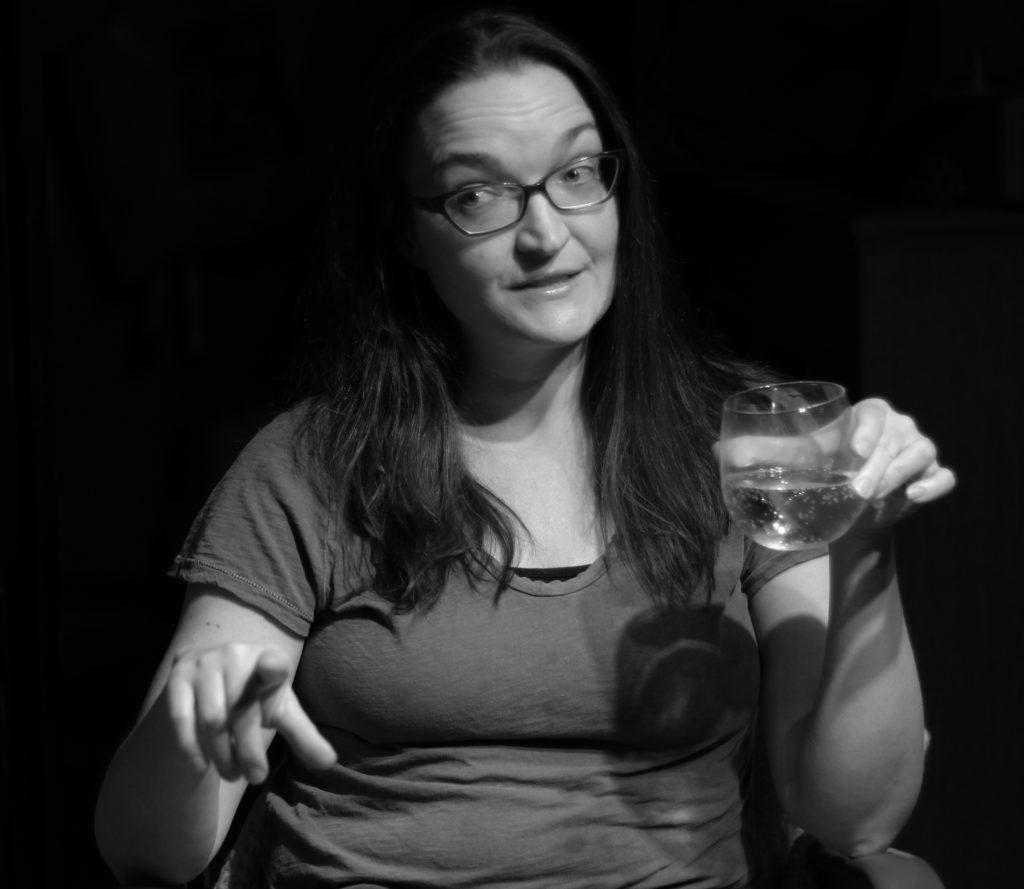 My mother raised three girls while slowly losing the use of her body. She counseled us through school work, boyfriends, frenemies, lousy jobs, cruel teachers, car crashes, and most notably, our father. Despite his long decline, the drunken insults, the DUIs, the embarrassing public displays, the inconvenient absences, she believed in his better nature and told us not to hate him because it would only be hating ourselves.
I can clearly remember countless days of talking with her for hours. In my memories, I'm in a parade of different hairstyles, fashions from halter tops to floral dresses to vests and then overalls. And always, my mother is there, listening, asking questions, offering advice.
There was no way for her to know what I needed to do to have a secure future. She didn't even know how to secure her own future. In fact, she didn't know a lot of things. She didn't know that I might marry a man very different than my father. She didn't know that a good job is still no guarantee. She didn't know that I'd take one thing she said one afternoon and try to build my whole life around it.
Most importantly, my mother had no idea what kind of a mother I might be. I know this because I have no clue how my kids will turn out. I'm still surprised they made it out of diapers. I dispense wisdom and warnings in equal measure, hoping that the right things will stick so they'll make the best decision they can when they're all on their own. Only now can I see that that's what she did as well.
As a child, I listened to her words. As a mother, I look at her actions. Rather than saying the perfect thing or accurately predicting any future, her greatest gift was showing up day after day. If I still followed all of her advice, I'd be wearing patterned sweaters, oversize glasses, and have a smart, short haircut. If I follow her example, though, I give my kids my time.
Mothering is in the minutes.
***
I think my mother was right that not everyone has to be a mom (or dad). The world does need good aunties (and unkies) because kids require a tremendous amount of guidance and support. But whether or not my mom thought I might be good at it, I can't back out of motherhood now. I have two kids and if I'm lousy the only thing I can do is try to get better.
That's where all those years of institutional indoctrination and management training might help me gauge if I truly am a lousy mom. I need a personal performance review.
Since a performance review is based on a job description, I wrote one for myself. I put down what I think I'm supposed to be doing – not what I want to be doing or what I think would be ideal. My hope was to capture any illusions and unrealistic expectations as well as the daily tasks I expect of myself right now.
***
JOB TITLE: Queen Megan
Reports to: The Higher Power
Colleague: Captain Britton
Supervises: Young Padawans
Work Hours: All of The Hours
PURPOSE: This position manages the physical, emotional, and spiritual development of the family which is defined as the four humans and three cats currently living Chez Sukys, Tacoma, WA.
DUTIES:
Physical Needs

NUTRITION: Provides food eating routines consistent with a healthy body, community, and planet.

RESPONSIBILITIES: grocery shopping, meal planning, meal preparation, school lunches, Receiving Complaints

SANITATION: Develops and maintains routines which inhibit noxious germs, odors, and clutter on people, in rooms, in the yard, and in cars.

RESPONSIBILITIES: dishes, laundry, garbage, recycling, compost, kitty litter, floor, dusting, pest control, disinfection, bathrooms, windows, filing, organization, winnowing, gardening, car maintenence, showers/baths, haircuts, handwashing, medicine cabinet, veterinary, doctor and dentist appointments, Lectures on the Black Plague

SUPPLIES: Evaluates and maintains stocks of necessary possessions.

RESPONSIBILITIES: food, cleaning supplies, clothes, shoes, school and office supplies, art supplies, games, entertainment, catnip, incense, cars, household items,  gifts, tools, luggage, garden supplies, bath products, appliances, Saying No

ENRICHMENT: Researches and schedules opportunities to enjoy and learn through physical, mental, and artistic experiences.

RESPONSIBILITIES: after-school clubs and sports, summer camps, family vacations, educational opportunities, screen time, library, home improvements, dining out, babysitting and child care, parties, playdates, movies, bikes, watching baseball, Judge of What's Funny

BUDGET: Creates and maintains resources to accommodate all needs and duties.

RESPONSIBILITIES: contract consulting work, financial software, taxes, reconciling accounts: checking/savings/retirement, insurance: health/car/life, loans, budgeting, allowances, charity, debt collection, low balance warnings, Uncomfortable Family Finance Meetings

 Emotional Needs

SELF: Assesses and provides the care and treatment necessary to maintain a loving, compassionate, Cosmic view self and this incarnation.
COLLEAGUE: Communicates with and supports Captain Britton to maintain a loving, compassionate, cooperative, creative, Cosmic, sensual partnership and parenthood.
PADAWANS: Communicates with and nurtures children to help them recognize their unique needs and personalities, assists them in creating routines for self-care to maintain loving and compassionate Cosmic views of themselves in this incarnation, offers love, compassion and personal Cosmic views where they need it, allows them room to also practice their routines of self-care.
EXTENDED FAMILY: Maintains relationships, knowledge and communication with family members outside the house, as well as ancestors, to share and understand the care and treatment necessary to maintain a loving, compassionate, Cosmic view of self and this incarnation.

RESPONSIBILITIES: journaling, napping, sleep schedules, eating schedules, meditation, yoga, books, storytelling, family photos, character analysis, videos, letters, cards, ancestry, dates, holiday celebrations, visits, music, artistic expression, hugs, kisses, tickles, Apologies 

Spiritual Needs

SELF: Develops and maintains daily routines to connect to the timeless, Cosmic view and applies any lessons to daily activities.

RESPONSIBILITIES: journaling, meditation, research, classes, reading, rituals, oracles, retreats, fellowship, Being Alone

FAMILY: Shares insights and lessons from self-spiritual path when appropriate, encourages others to find their own connection to the timeless, Cosmic view. Listens and dialogues about others' questions and insights, learns from others' unique perspectives, offers fellowship and participation in spiritual seeking.

RESPONSIBILITIES: listening, inquiring, storytelling, artistic expression, rituals, wilderness trips, Fielding Questions about Santa and the Tooth Fairy

Continued Development: Recognizes that all listed duties are subject to change at any moment without notice, accepts continual evolution of physical, emotional, and spiritual bodies within the family, adapts assignments and delegates tasks as soon as possible, maintains health and energy reserves to handle any and all eventualities, including the ones that cause insomnia.

IMMINENT CHANGES: puberty, menopause, male-pattern baldness
QUALIFICATIONS:
Superior Communication Skills
Compassion
Humility
Ability to Clean Up Bodily Waste from Humans and Animals
Situational Focus
Internet Security
Conflict Resolution
Negotatiation
Selective Memory
Logic and Debate
Semantics
Photography
Eyes in Back of Head
Interrogation Techniques
Search and Rescue
Karaoke
Love