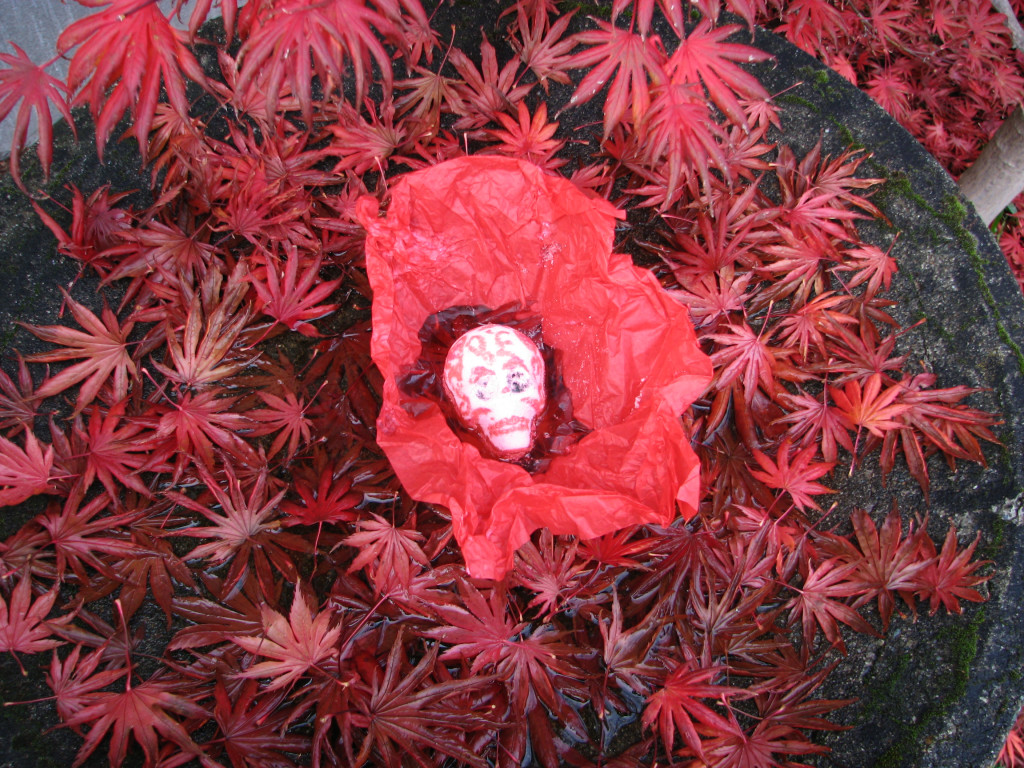 Moments after I gave birth to my daughter, my second child, I felt as though a heavy blanket of grief lifted from me. My daughter was born in June 2008, exactly a week before the fifth anniversary of my mother's death.
The closeness of those two dates held even greater meaning for me because my son had been born in February 2005, just four days before the second anniversary of my father's death. It seemed like the start of my kids' lives filled the voids left by my parents.
Holding my newborn daughter in my arms, the sudden sense of completeness gave me confidence that my family wasn't lost forever. That thought was a relief because the intervening five years felt like living in a black hole.
A few months later, on the Day of the Dead, I made a tribute to my parents at a community event at the Tacoma Art Museum. It was the first time I made a formal effort to honor their passing. Before that, I don't think I'd been able to accept they were gone.
In the community art space I painted my parents' initials on a sugar skull and wrapped it in scarlet tissue paper. When I was done, it was mine to take – but I didn't know what to do with it. It wasn't really a mantlepiece object and I didn't have a grave to place it on. So I stuffed it in my purse and took it home.
As I pulled up to my house, I saw the red Japanese Maple in my side yard. It had been a tiny sapling when we first moved in, but grew into a beautiful tree over the years. Its leaves were just starting to fall, and I noticed they matched the color of the tissue paper.
When I took the photo above, I half-jokingly named the maple "The Family Tree".
***
Since that day, I watch the tree every morning while I drink my coffee. I thought of the roots I put down here in the Northwest, far from my North Carolina home, as it grew tall enough to reach the attic windows of my house. The tree even inspired me to draw, despite the fact that I'm not so good.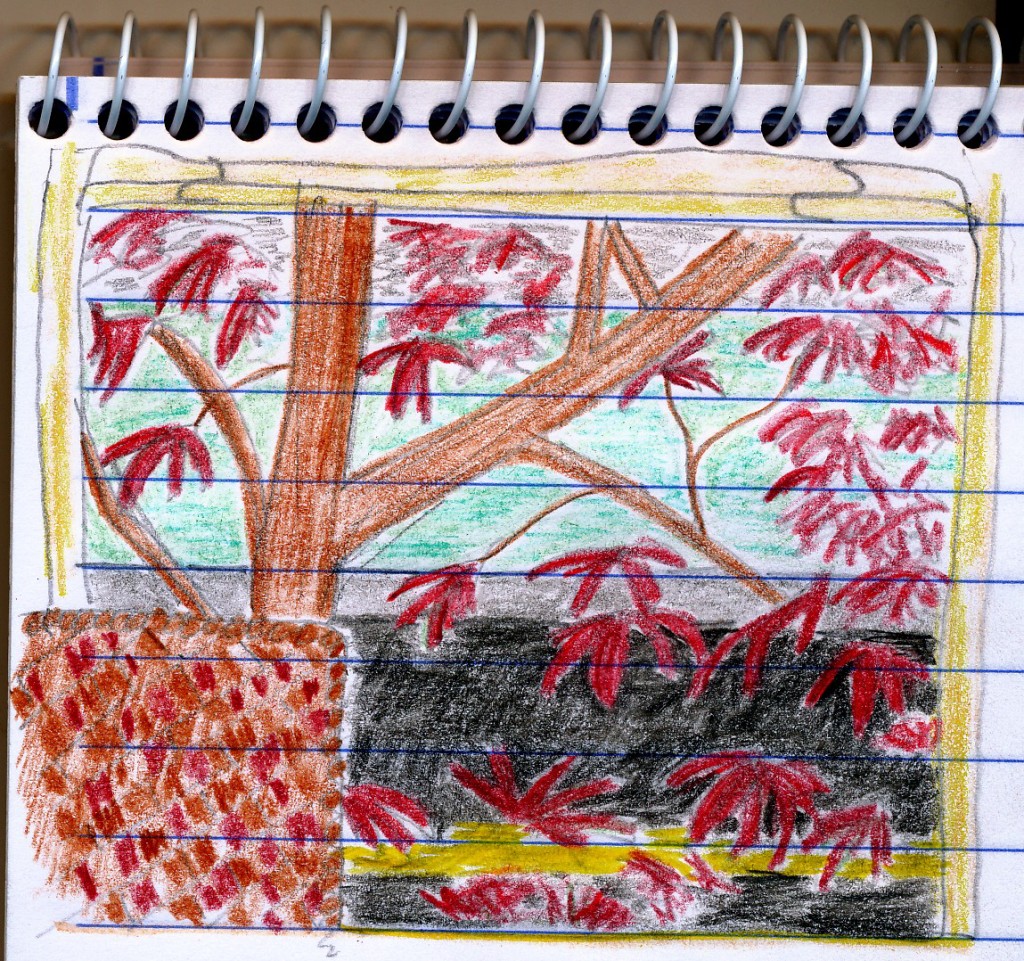 The previous homeowner planted the tree just before selling to us. It sits closer to the house than it should. On top of that, the trunk divided very close to the ground. It looked like two trees joined together.
According to my tree book, those two factors put the tree at a serious disadvantage.  For years I wondered if it could continue to support both main branches. I fretted over its viability in such tight quarters. Every Spring I would stand in front of the Family Tree and try to carefully, modestly, prudently prune the branches to keep it happy.
***
Last summer we installed new siding on our home and the tree's placement made the job harder. The siders wanted to remove it to get easier access to the job. I said no.
For three days I listened to the two men yelling at each other in their native language as they wedged scaffolding in the narrow space between the house and tree, bumping into branches and badly scraping the trunk. I couldn't understand their words, but I guessed there were plenty of curses being tossed in the tree's direction.
Before Fall hit last year, most of the Family Tree's leaves turned dark, curled up, and fell to the ground. While the neighboring green Japanese Maple still fluttered in the breeze, the red maple bared its branches.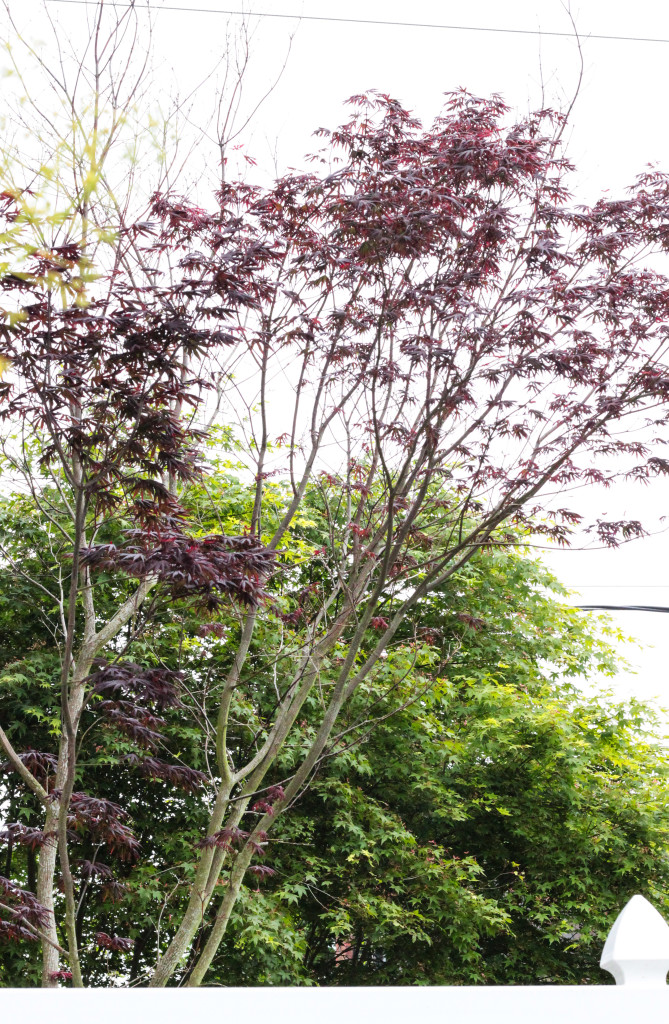 ***
This Spring the Family Tree looks sad. Few branches have leaves, most of them are dry and splitting. My research tells me that there's not a lot I can do to make it come back to life. It will or it won't, depending on how strong it is.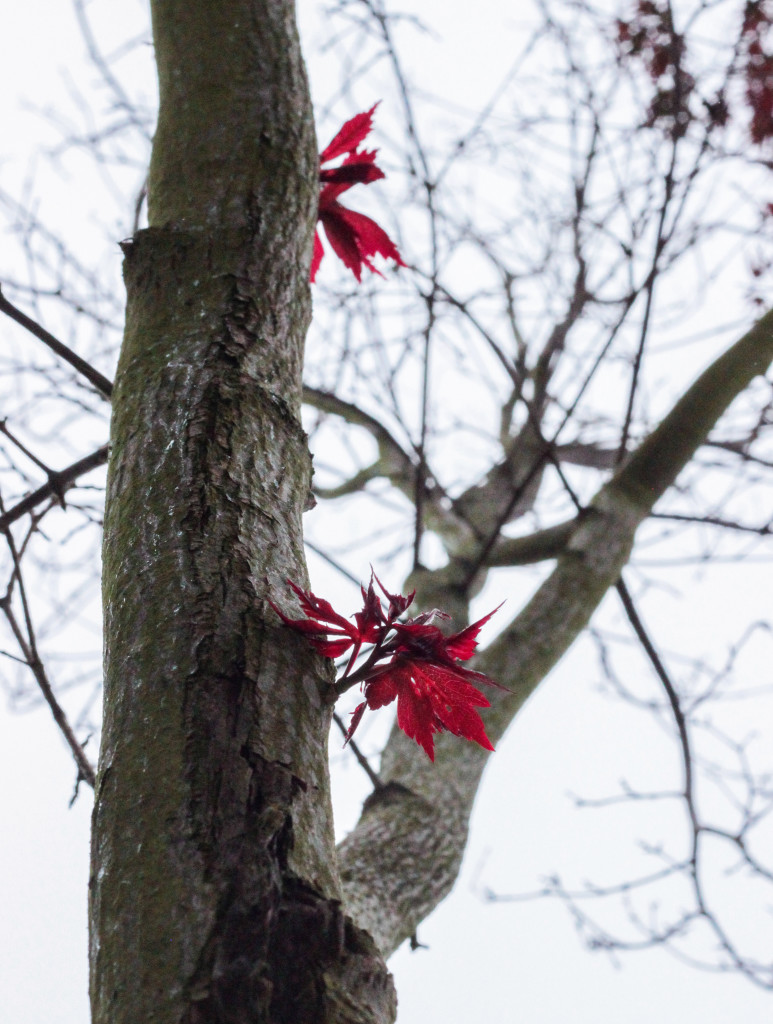 Last week on Mother's Day my husband tackled a few jobs for me. First, he took the hand saw to one of the Family Tree's main trunks. It was dead beyond recovery. Once it was cut off, the remaining tree looked fragile. Only a few living leaves clung to the tips of the branches.
Although I shouldn't read so  much into landscaping, I sat in the yard looking at the tree and wondered what its death would mean for my own extended family. When I left North Carolina back in 1999 I didn't think it would be forever. I thought I'd go back in a few years.
I tried to hold on to my connections down South, but the physical distance crept into familial distance. It's not easy to keep a family together, especially once everyone has kids of their own. At some point, I suppose, we have to focus our energy on growing our own little saplings. Still, as I looked at the drastically diminished Family Tree, I felt the loss of my lineage all over again.
Then, my husband did one more job for me on Mother's Day. He painted my weary, ragged kitchen cabinets so they could be used as chalkboards. Until we get the money to overhaul the whole room, we figured we could have fun "arting" up the kitchen.
Knowing there's nothing physical I can do for my Family Tree, I picked up the chalk and created an artistic tribute to it. My daughter saw me drawing and asked what I was doing. I told her the Japanese Maple was in bad shape and I hoped that maybe imagining it coming back to life might help.
That evening I walked into the kitchen to discover a companion drawing on the cabinet. My daughter told me she decided to draw her own picture, "but with the sun, because trees like sunshine, too." She also told me she put her own message on the drawing, so the tree would know what she meant.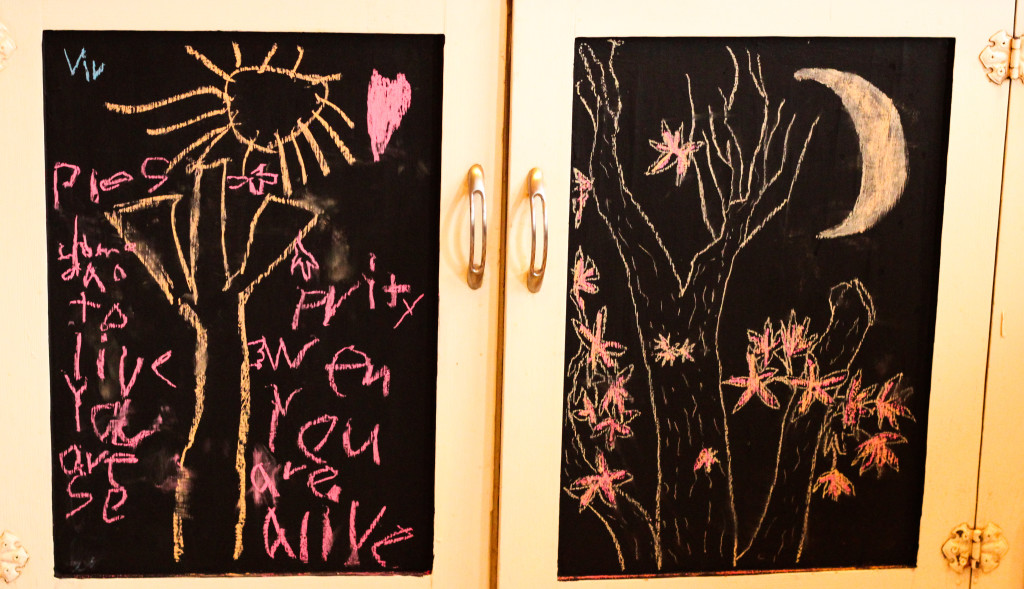 My daughter has a better grasp of the spiritual than me. All my years of school and science and journalism leave me a little embarrassed about fully committing to prayer – or even positive thinking. Just shy of seven-years-old, though, my daughter has an innocent confidence in the power of intention.
***
This morning I went out to check on my garden and braced myself as I walked up to the Family Tree, afraid I'd see even more branches failing. Instead, I saw something on a part of the tree I thought was long gone. A teensy-tiny leaf pushed its way out of the bark.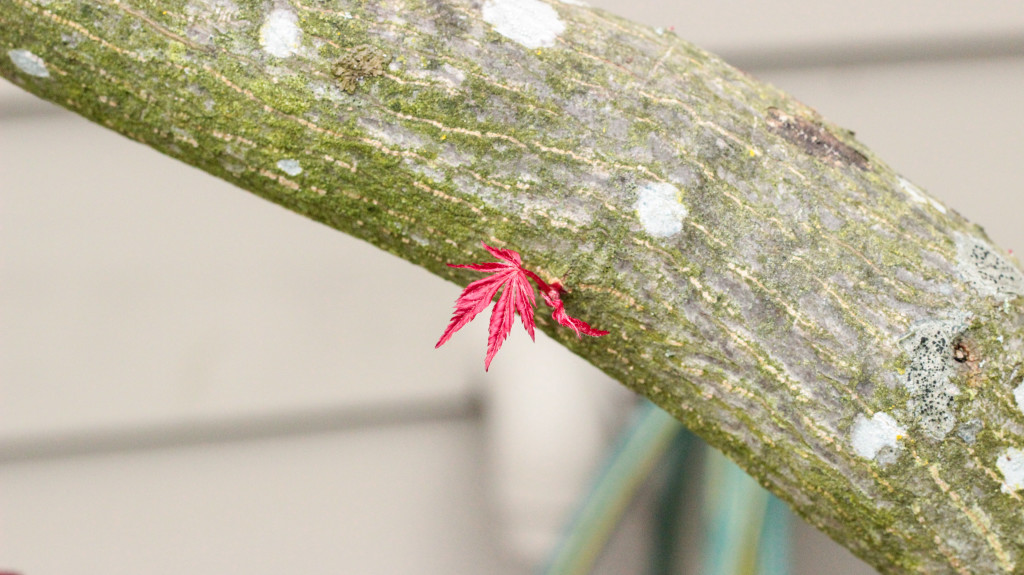 The rational part of me can't credit this new growth to the drawings my daughter and I made. But, thinking back to how my daughter's birth, her emergence into this world, helped a long-dormant part of me come back to life, I can hope it's a sign that my Family Tree isn't yet a goner.
***
Luckily, I'm not the only one to find inspiration among the trees. Here's a playlist of songs that fuel my flights of forestry fancy.