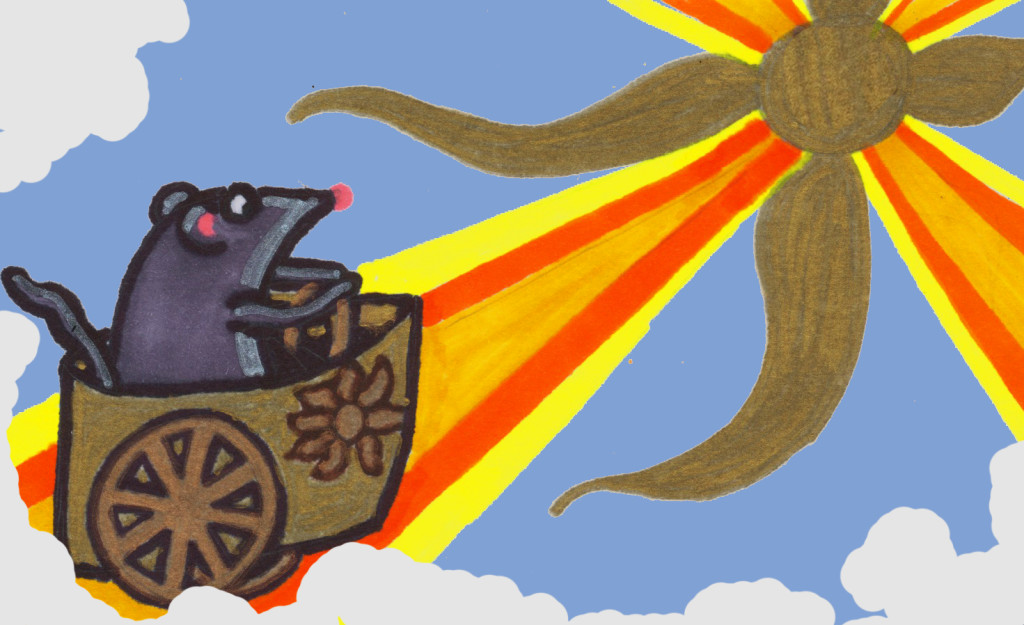 ***
On this radiant May Day, full of flowers basking and leaves shimmering, I remember the sun was once a god.
Watching his blazing chariot high in the sky, I call Apollo's attention to a tiny, deceased bod.
+
Way back when, the ancients sometimes called him Apollo Smintheus, because he was also Lord of the Mice.
Mice adorned his temples, served as his informants, and delivered his plagues, which wasn't so nice.
+
Today, Apollo's golden radiance can't shine where one of his rodents lay dead and alone in the dark.
He expired behind the plaster walls with only a rank bouquet as his final resting mark.
+
Since I cannot locate his corpse, rotting in some unseen space, for proper sacramental burial,
may this kitchen table verse, its stinky rhymes written with wrinkled nose, be his soul's carry-all.
***
I first saw you, up close, when I discovered your poops, scattered behind the pasta on my cabinet shelf.
How shocked we both were when I found you still hiding in the Santa cup, that sneaky old elf.
+
You scrambled from the plastic mug, your gray body only inches from my eyes, and I screamed.
With the smell of your passing now filling my head, I confess this is the ending I dreamed.
+
When the cats saw you on the back porch the next day, scurrying under the plants, I let them outside to find you.
My hope, I must say, was that they would stalk and pounce and be anything but kind to you.
+
The undoubtable confirmation of your permanent demise should be a joyful pest expulsion.
Alas, the lingering vapors of sulfur dioxide, methane, and benzene just fill me with revulsion.
***
O Mouse, wee mouse, house mouse, you've inspired some of the greatest cartoon characters.
Mickey and Jerry, Mighty and Fievel, I drank in their stories like ambrosia's nectars.
+
Only you would be stirring, scampering deep in the night, while the rest of us lay sleeping.
Not even a clock striking or blindness or a farmer's wife's knifing could stop your creeping.
+
Long before the moving pictures, the poems, even the books, humans honored your small mousy ways.
Your presence meant an abundance of food, and you were a prophet back in the days.
+
Some believed that you gnawed through the weapons of the enemy on the evening before battle.
For all your good deeds and entertaining adventures, though, it's time to skedaddle.
***
Mystics say your spirit shows small actions can achieve great goals, if you don't get too picky.
As a totem mouse, you bring wisdom to my life, no matter how icky.
+
Despite the billowing fetor of your current state, you're an orderly and fastidious creature.
Modest, resourceful, orderly and loyal, I should adopt some of your best features.
+
Once considered a carrier of souls, the incense now burns to carry you across the threshold.
For my wishing your death, let this sage smoke atone and release your odor's stranglehold.
+
Experts say it may take weeks for the stench of your decomposition to finally dissipate.
Until then, remind me to smell life's sweetness, before I reach the same fate.
****