As much as I want to avoid being a helicopter parent, the world doesn't help me much. If I am supposed to let my kids take risks then someone needs to do something about sharp corners and dangerous strangers and gravity.
Things aren't like they were in 70's, when I grew up. We lived in a small town where I could bike around a little lake to the library and drugstore by myself, without a helmet. However, when I think back farther than childhood nostalgia, I recall how many kids in that town were paralyzed in accidents, were viciously attacked by dogs, and died in car crashes. The world wasn't any less dangerous. I think we simply have a lower tolerance for tragic loss these days.
For all the times I have felt silly for being so protective, something like the #3 most-viewed post of 2014 happens.
***
originally posted July 18, 2014
***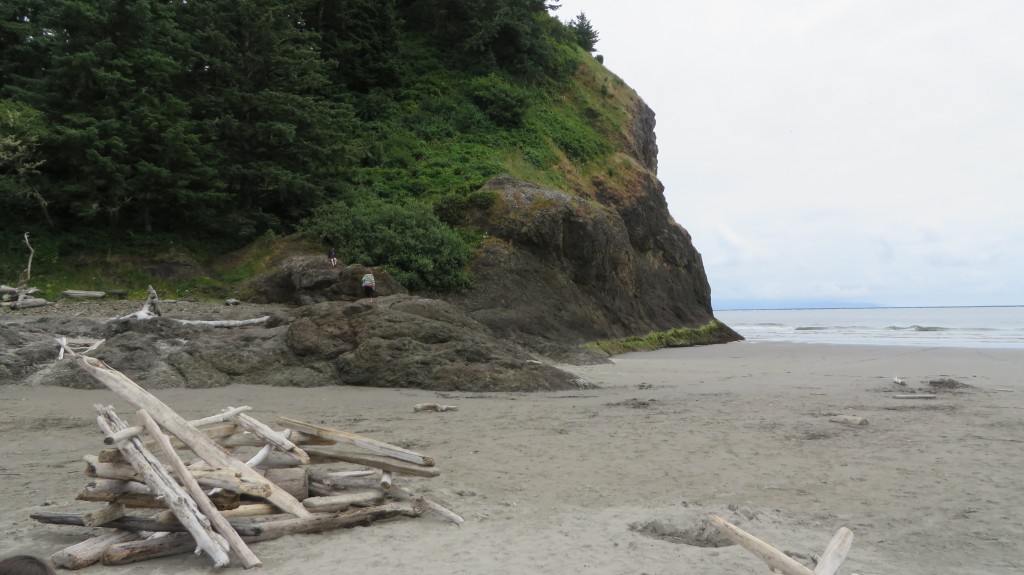 A friend and I took our kids camping at Cape Disappointment, Washington in early July. The area clocks in about 106 days of fog every year, so our chances of enjoying a sunny beach trip were slim. Plus, we had three kids under 10 between two moms. We didn't expect it to be relaxing, and I took the State Park name as a reminder to keep my expectations low.
When we arrived, everyone from the park ranger to the store clerk to fellow campers warned us, "Don't turn your back on the ocean." It may look inviting, but sneaker waves and rip tides make it treacherous.
From our campsite, we could hear the roar of the Pacific, sounding like an Interstate full of cars. Added to the usual camping hazards – fire, axes, climbing trees, strange dogs, mosquitos, molten marshmallows, etc. – I anticipated 48 hours of lifeguard duty. My mantra of the trip looked to be, "Stop, Don't Do That, Watch Out!"
My friend is a seasoned camper. I am not. She brings all the gear and know-how. I bring extra food and complaining.
As we set up the tent and unloaded equipment and fielded a thousand requests for risky adventures, I groused about how much it cost – mentally, emotionally, physically and financially – to give our kids happy memories. Luckily, after fourteen years as friends, my companion knew how to deal with me.
"The first thing you have to do is get over the injustice of it all." We were talking about dealing with intense kids, our kids, the kind of kids who fulfill the curses our own mothers put on us when we tried their patience.
She told me she had to let go of the fact that children will find every flaw in a system and exploit it to their fullest advantage. And, there's no way to enforce every rule, all the time, with complete accountability. Following rules is not a natural state of being. So, kids demand eternal vigilance from parents. A moment of inattention can result in tragic loss.
Motherhood requires personal payments of blood and pain and humiliation for the public profit of well-adjusted, vibrant, creative and productive adults. If you expect huge personal returns, you might be unhappy with the balance sheet. It's a sketchy investment, and my friend advised that mothering was more manageable when she made peace with that fact.
I listened to her. Then I poured us each a jelly jar of wine. Once my glass was half-full, I decided to give her crazy idea a shot. I told myself that for the next 45 hours I would let go of the injustice of it all.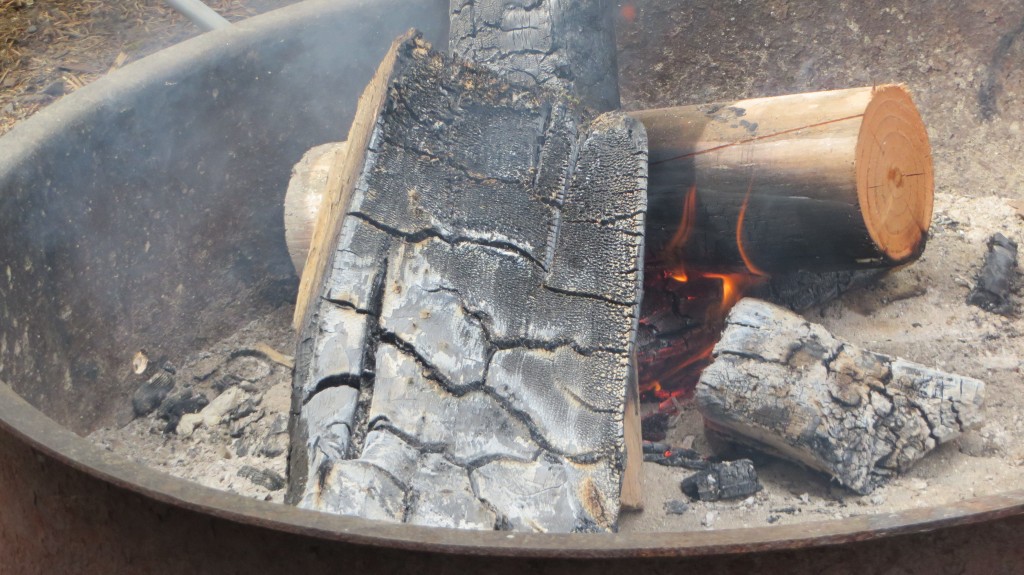 By this time, we had a campfire going and we had to negotiate the acceptable parameters for stick burning and log poking. It's all too easy to go from a little stoking to wielding a torch. In exchange for temperance around the flames, the kids demanded a spooky story. I pointed to my now half-empty glass, "Y'all are big enough, why don't you tell a story yourself?"
My friend and I were entertained as her son, 8, and my son and daughter, 9 and 6, respectively, struggled to scare one another.
"It all happened at an abandoned toy store," the 8 year old had the best grip on pint-sized terror. "These kids found it and inside… hanging from the ceiling… was a Barbie doll… WITH ONE EYE. Only, she could hypnotize people. And she made them… STRANGLE THE OTHER TOYS! She was possessed by a ghost who made her do it."
"That's not really spooky. It's more… gruesome," the 9 year old assumed the role of critic. When pressed to make up his own tale, he suggested his sister should try first.
The 6 year old started talking low and whispery. But, it became clear she was just telling the same story as the 8 year old. The boys shouted her down and she threw her hands in the air, "What?? That voice was totally scary."
Finally, they joined in a chorus to beg me to tell them a story. I didn't have one. But, I figured kids without a television or tablet would be too desperate for entertainment to judge harshly.
So, I drained my jelly jar and  launched in with a seed of an idea, a classic story starter. "Do y'all know how Cape Disappointment got its name?" The kids sucked on their juice boxes and shook their heads. I didn't know, either, but I thought I'd see what I could make up on the fly.
"It happened more than 100 years ago, back in 1889. A lot of people from back East were moving out here to start new lives. They walked across the country or they took a boat to get here. Either way, it was a loooooong journey.
On one of the boats, three kids traveled with their families. They were coming from… New Jersey."
The 8 year old jumped in, "I've been to New Jersey. My mom's from there. We went to the beach."
I raised my eyebrows, "Interesting, because that's the exact beach where the kids left on the boat."
"From the boardwalk?"
"Yes, those three kids walked that exact boardwalk to get on the boat." Sometimes kids make a great, gullible audience.
My 9 year old spoke up, "Hang on. WE'RE three kids. How old were they?" He threatened to bust my tale before it got started.
"I don't know. I just know when they were born. Let's see… one boy was born in 1881, another boy in 1880… and his sister in 1883. What would that make them?"
Much finger counting commenced and the 9 year old reported in awe, "Oh. My. Gosh. They were the same age as we are!"
The 8 year old came dangerously close to wising up, "Yeah, I've heard this story before. At the library. It will be all about us, really. That's how the story's told."
I knew I was about to lose them. "Really? Huh. Well, I don't know what story you heard, but all I know how to do is tell the story as I know it. It didn't occur to me that the kids were like y'all. You may not think you're all that similar once you hear what happened to them."
Then, I stopped pulling punches and let my imagination entertain ideas that would even scare me.
"So, the kids boarded a boat in New Jersey and sailed down the East Coast, down along South America, around Cape Horn, back up along the West Coast, past Mexico, past California and they got as far as right off this beach, out in the ocean.
They were on their way to Seattle to start new lives, working and going to school and all that."
The 8 year old jumped in again, "Hey! I live in Seattle!"
"They sailed along this Cape one night and a huge storm blew in. Black rain clouds blotted out the stars, the wind whipped the water to twenty-foot swells.
The ship rocked side to side. The sails almost dipped into the water. The weather threatened to sink the ship.
Everyone scrambled for the life boats, women and children first. It was chaos and the three kids got separated from their mothers. A sailor grabbed them by the collars and threw them into a life boat… all by themselves. He put oars in their hands and told them to row for shore, 'JUST DON'T STOP PADDLING!'
And then, the kids were out on the water, all alone. They frantically paddled, but the storm waves knocked them so much that they didn't even know which direction to go. One by one, the wind tore the oars out of their hands.
And then, they felt a BUMP on the bottom of their little boat. Then again. BUMP! All three children peered over the edge of the life boat and saw underneath them… a WHALE. It was pushing them to shore.
Somehow, the whale kept them from capsizing and got them as close to shore as the breakers. Any closer and the whale would have been stuck.
A wave lifted their boat toward the beach. And when it looked like they were almost safe, another wave, a SNEAKER WAVE, smashed into their little boat and they all spilled into the water.
The children tumbled in the breakers and gasped for air, but instead got mouthfuls of salt and wet sand. They thrashed and kicked, but the waves beat them back down.
The next thing any of them knew, they were sprawled out on the beach, soaking wet, clothes torn, bare feet. They managed to find one another and they huddled together, shivering, until the sun rose up out of the forest.
The morning was beautiful, warm, gentle.
The ocean's roar fell to a whisper.
The three children were hungry and went searching in the woods. They found berries and mushrooms. Back at the beach, an eagle swooped low and dropped a fish – still wriggling – at their feet.
Since they had all seen their mothers prepare fish, they knew what to do with it. Only, they couldn't build a fire. So they just ate the fish raw. And it was pretty good.
By late morning, the children were feeling… kind of good. Most of the time, they were treated like little kids. But, they saw they survived the worst, most scary night and lived to see the sun rise again. The animals seemed to help them, so maybe they weren't totally alone.
Soon, they were making plans for new lives – all on their own.
They called it, 'Kidtopia'. It would have a queen and two kings. They planned to climb the rocky cliffs and build a marvelous castle overlooking the ocean.
They started to even feel a little excited. Living on their own, by their own rules, no one to tell them what to do, meeting the animals and running free of clothes and chores.
And just as they started to sing the new National Anthem of Kidtopia, they heard someone yelling.
Then they heard two people yelling. Then, they could see two women, way in the distance, running toward them.
They recognized the coats and long dark hair of their mothers.
The children ran to meet their mothers and hugged them long and hard. Then, their mothers told them that, miraculously, everyone survived. Even the ship weathered the storm and would be ready to sail again in a day's time.
And their mothers said, 'Wonderful news, we can row back to the ship and still make it to Seattle in time for all of you to… START SCHOOL!'
And do you know how those children felt?"
My 9 year old said, "Pretty bad." My 6 year old groaned. The 8 year old said, "NOOOOO!"
I said, "Yeah, they were DISAPPOINTED."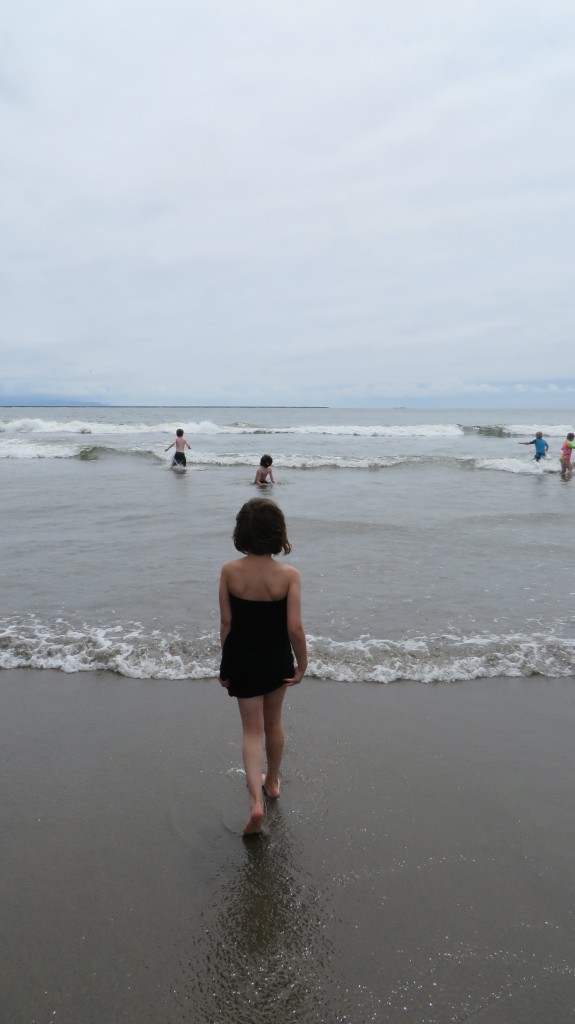 The next day we did our best to fulfill the kids' wishes and do everything the Park had to offer. Sand castles and scooter rides and meeting every other child in the campground. Having been admonished to only swim at the mouth of the Columbia River, never in the ocean, we let the kids jump the smallest waves at the very edge of the water on a beach called Waikiki. (It offers little competition to its Hawaiian namesake.) They claimed the land and renamed it, 'Kidtopia'.
Through it all, my friend and I were hawk mothers. We called out when they climbed too high on the rocks, we swooped in when they got in water over their knees. We laid a blanket in the sand and barely sat on it because the kids kept finding some new danger, like climbing the creaky driftwood sculptures people built on the beach.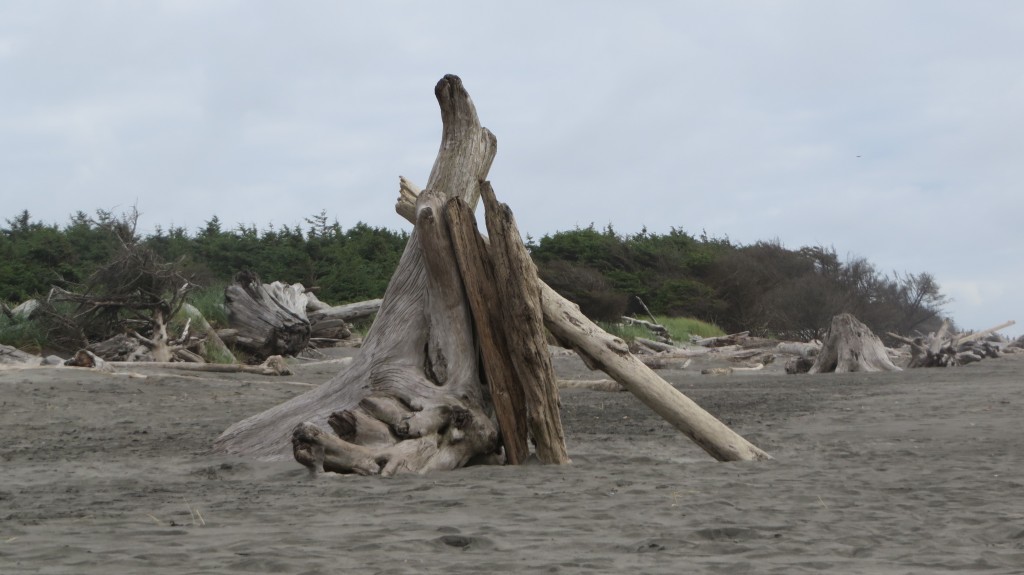 During the five minutes we both happened to get off our feet, we each wondered if we were being too careful, if we should just lay off, not worry so much. Then, we watched a Coast Guard boat speed across the horizon, heading north, so fast that it caught air as it cut across the choppy waves.
When we got back to our campsite late in the afternoon we couldn't hear the ocean. Instead, the air was full of the sound of helicopters. My friend is a reporter, and a news hound to the core. She followed the sounds back to the beach to see what was happening. I took kid patrol, continuing my mantra, "Stop, Don't Do That, Watch Out!"
After a half-hour my friend came back, sadness on her face. No one official was on the beach, but the talk among the crowd was that two pre-teens had been swimming in the ocean and a sneaker wave pulled them out to sea. The helicopters were searching for them. As she told me this, another helicopter joined the search, flying low over our heads on its way to the beach.
We followed our camp schedule for the rest of the night, burgers on the grill, campfire, s'mores, scooter time, tree climbing, tooth brushing, but no story. That night the story was still in process.
Three hours after the search started, the helicopters still circled. Four hours after the search started, the helicopters still circled. I climbed into my sleeping bag, my children on either side of me in their bags. They grabbed my hands and put their heads on my shoulders. I listened to the helicopters and thought about the mother of those children.
Everyone warned us not to swim in the ocean. Had anyone warned her? Did she even know her kids had gone in the water? Was this the result of one moment of inattention? Did she see it happen? Was she listening to the helicopters, too?
I wrapped my arms around my kids and pulled them in tight. I prayed for the other mother whose children were alone in the ocean. I wished for them to have a benevolent whale, a miraculous salvation.
I tried to get over the injustice of it all.
Lindsey Mustread, 11, and her brother, Kenneth, 9, were caught by surprise in a riptide off the shore of Long Beach, Wash.