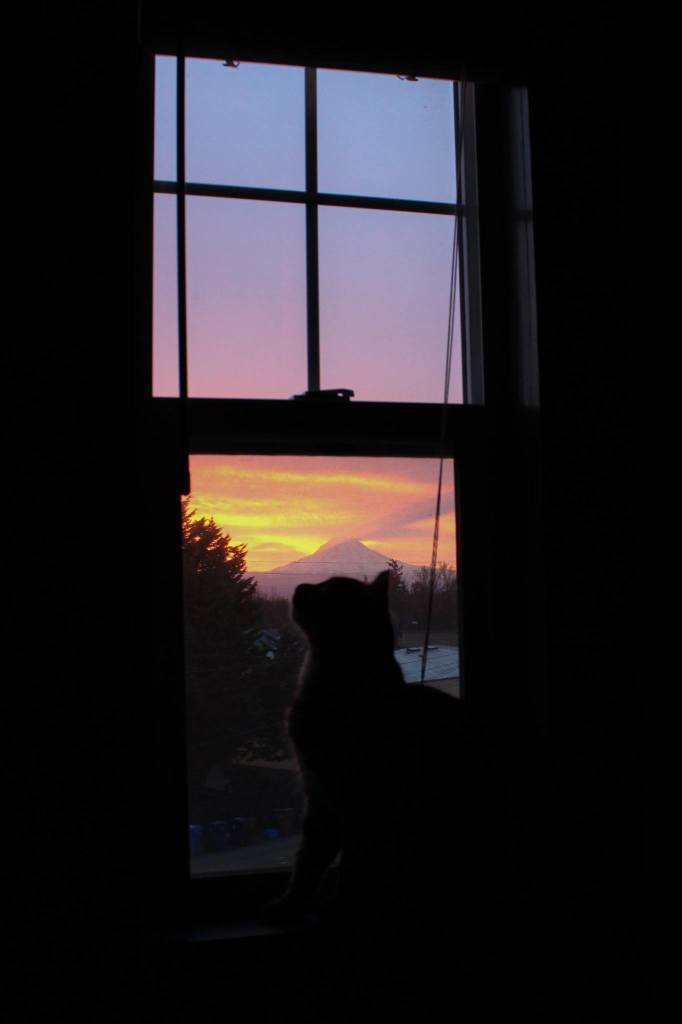 I am in Tacoma, and it is November 2014 and I am 41 1/2 years old, female, and apparently determined to erect new altars to old gods, no matter how unimportant all of us may be. 
---
That's my variation of MFK Fisher's first entry into her journal upon arriving in a cold Provence hotel in December 1970. She had just spent a delicious, yet troubling, couple months with fellow culinary celebrities including Julia Child, James Beard, and Richard Olney. In a new notebook, she started writing to make sense of the conversations, arguments and visions they shared.
MFK's grand-nephew, Luke Barr, published a book about their historic meeting in 2013, "Provence, 1970: M.F.K. Fisher, Julia Child, James Beard, and the Reinvention of American Taste". The story is about a shift in American cuisine, but also a changing world.
I found Luke's book today as I begin a new chapter in my life. Two years ago I left my public radio career following a traumatic experience at an industry conference. Since then I've been building my own business, my own show, and my own sense of identity. Despite pushing myself to start over, though, I feel stuck, unsure if I'm doing the right thing or where, exactly, I'm heading.
Fed up with my aimless anxiety, last week I asked myself, "What would you want to do, if you could do anything at all?" Without thinking, I said, "Live in France and write a book". It's a fantasy image concocted from six years of studying French, a decade of food interviews, dozens of books and a host of movies. The France I imagine running away to is probably as far from reality as my old dreams of 'making it' in public radio. Still, the desire jumped out of my mouth when given the invitation.
Unfortunately, we're in no position for me to dash off to the Continent for café afternoons and cognac evenings. My husband and I are just barely keeping our budget over the red line, we have two young children, and we can't swing a night out, much less a writer's residency. However, the same imagination that would send me to a foreign country in search of inspiration is capable of conjuring up a present reality that might be just as exhilarating.
The Pacific Northwest is a wine, food, and culture Paradise. I should know, I spent twelve years exploring the region as a radio producer. Despite painting audio pictures of the glory of artisanal living around Puget Sound, though, the demands of my career and commuting and family kept me from experiencing it for myself. I felt like I was always describing the dessert trays of life, never getting a taste.
Rather than escaping to France, I thought, what if I found France where I am? Since my image of French life isn't based in reality, my "Joie de Vivre" doesn't have to be either. I got the idea of spending…
A Year In France (In Tacoma)
So, last night my husband and I said goodbye to our home as we knew it. We decided to get a little townhouse in some French village, something with a beautiful view, perhaps some cats, a school for the children and a job within a train ride so we could support our bourgeoning bohemian lifestyle. He figured he can keep up his en plein-air artistry while I finally get to the writing that's eluded me.
This morning, I woke to a gorgeous sunrise behind a majestic volcano. There are no active volcanoes in France, but "Provence en Tacoma" defies the real world. Meanwhile, my children adapted to our abrupt move as though nothing had happened. I have high hopes for our expat-pat life.
I found "Provence, 1970" while researching our new pseudo-home. When she wrote her first entry in her 1970 journal, MFK Fisher was 62 and her children were grown up. So far in her life she had divorced her first husband, lost her second husband to suicide, left a Hollywood writing job, had a baby out of wedlock, went into debt with her third husband, had another baby, and lost both her parents. Worse, the Provence she retreated to in 1970 reflected an attitude entirely unlike the one that inspired her approach to food.
I knew I found my guide to this new adventure when I read this passage from "Provence, 1970":
In her new journal, underneath WHERE WAS I?, she wrote:
I am in southern France, and it is December, 1970 and I am 62 1/2 years old, white, female, and apparently determined to erect new altars to old gods, no matter how unimportant all of us may be.
The "old gods" were French, of course. They were the gods of food and pleasure, of style and good living, of love, taste, and even decadence. M.F. had spent the last thirty-odd years writing a kind of personal intellectual history of these ideals in her books, memoirs, and essays. These works were her "altars," so to speak, and she was now embarked on a new one. This notebook would serve as the site of her daily communion with France.
France had long been at the center of her philosophy. She had made France a touchstone of her writing, in which she alchemized life, love, and food in a literary genre of her own invention. But she was suddenly keenly aware of the need to make new sense of the old mythologies. The events of the previous weeks had shown her the limitations of her own sentimental attachments—to the past, to la belle France—and confronted her with the too-easy seductions of nostalgia, the treacheries of snobbery.
She was alone in Arles for a reason. It was a reason she was still in the process of formulating.