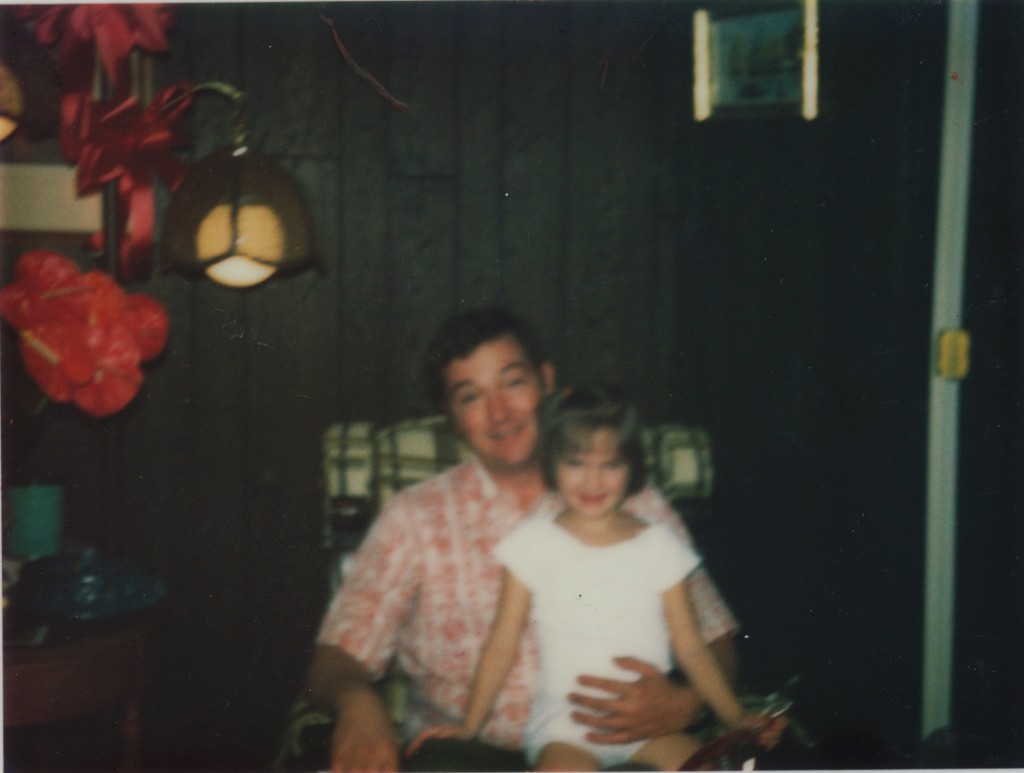 -Father's Day 1978-
Having been sternly warned by my mother, I run to my father and whisper in his ear, "Daddy, we got you a present and it's underwear, but it's a secret so I'm not supposed to tell you."
-Father's Day 2014-
I'm still terrible at keeping secrets.
My big mouth is probably not hereditary, though. Yesterday, just when I thought it would be safe to dig into old papers again, I discovered a secret that both my parents took to their graves.
The secret has been in my possession from the moment my parents divorced, back in the Fall of 1998. In the midst of a chaotic and tragic separation, in a desperate bid to save family heirlooms from my father's resale shop, my sisters and I split up all my mother's keepsakes: the china, silver, grand mirror, dining set, chippendale furniture and also two letter boxes.
My mother said, "Oh, just throw those away." When I resisted, she said, "They're MY letters. I say throw them away." I didn't.
The aged vinyl of the boxes told me they were probably from the 1960's, when my parents' lives were golden. Since then, our lives had become a weepy melodrama and I wasn't going to lose any evidence of a better time. I carried them to my home in Rocky Mount, NC, moved them out to Tacoma, WA and kept them in an airtight box, out of sight and out of mind, never even opening them.
About three years later, my mother accused me of throwing away all her souvenirs during the divorce. She thought I followed her instructions about the letters. (Kids, here's why it's okay to disobey your parents.) I told her they were safe, that I knew they were something special.
My mother told me the boxes held all the letters my father wrote her while in flight school to be a Navy fighter pilot. She told me I should read them because he wrote about the challenges he faced in training, how hard it was. She said it would be an interesting document of Naval life. I told her I would read them when I got home. I didn't. (Kids, the rest of this story is why you should obey your parents.)
In 2003, my father died on February 5th. My mother died June 19. Thinking it would help my grief, I finally opened up the boxes and sorted the letters in chronological order by postmark date. I started reading them in order and got as far as January 9, 1965.
My dad had just started flight school in Pensacola, Florida. My mother was in her junior year at East Carolina University, studying to be a teacher. I was shocked by how young he sounded, how in love. And then, I read this:
"Tricia,
If the Earth is ever invaded, it will probably be on a Sunday night. It is such a depressing time that no one could retaliate."
I laughed and then cried. I knew just what he meant. It made me miss him more than ever in my life. I closed the boxes, put them back on the shelf, and only managed to read another two or three letters over the next eleven years.
Yesterday, with Father's Day coming on, I thought I might try one more time to make it through a few of his letters. He felt so alive when I read them. I picked up where I left off, February 15, 1965.
I committed to reading them in order, just as my mother would have received them. I wanted to feel like she did, getting those air mail envelopes at the Kappa Delta sorority house.
But, my eyes began to glaze as letter after letter recounted his sleepless nights, inspections, exams, hops, cruel officers and endless efforts to see my mother for just a few days. Even though I knew they found a way to be together long enough to drive each other certifiably crazy, I couldn't stand the drawn-out suspense of their courtship. I started jumping forward in time, until I got to December 2, 1965.
"Won't it be wonderful if I can get leave starting the 18th? That will give us three weeks to be together. That will be an eternity compared with what we've been used to."
When I read this letter, I decided to step back into the blow-by-blow action. But, there was a long break in the letters after that, during the time they must have spent together over Christmas. The correspondence picked back up with a letter postmarked January 17, 1966.
It reads exactly like earlier letters, painful pining and punishing piloting, but after six pages he ended with this:
"Here's one more joke for you.
Q. – Do you know the difference between a pick-pocket and a peeping tom?
A. – A pick-pocket snatches watches!
(That's dirty if you can't figure it out.)"
My dad always loved a stupid, dirty joke. I never knew my mom did, too. I kept reading. 
As I opened the next several envelopes, I caught a whiff of my mother's perfume. I don't know if the scent was trapped from when she first read it, or from years in her bedroom, but I could vividly imagine her reading them.
My dad was stationed in Kingsville, Texas, another stage of flight training, more than a year after he first started. I knew they married in September 1966, that they had to change the wedding date because storms prevented him from making the final aircraft carrier landing he need to complete his training. So, I hoped I might read something about their wedding plans. Then, I read this in a letter postmarked April 4, 1966:
"I just wish you were coming to stay with me forever. I do love you so much, and I need you with me to be complete. Why can't the Navy realize that a man 23 years old would be worth so much more if he could live with his wife."
To me, that sounded like a hint that they must have gotten engaged. I thought he was probably just talking 'as though' they were married. But then, in a letter dated April 12, 1966:
"My Darling Wife, "
Wife? I still guessed it was just a loving term, anticipation for their September wedding.
But then there was a letter postmarked April 18, 1966. He had a cyst removed from his ankle, I don't know why, but he complained that he didn't get a letter from her all week, just the insurance company,
"saying I owe them $120. It will be nice when we can admit being married so the insurance will go down."
The April 18 letter is written over several days. Later he says:
"I'm so glad your mother feels okay about you coming down here in June. That will be so great. If we do have to miss you having a wedding, it will be worth it ."
"I'd like to spend every Saturday, Sunday, Monday, Tuesday, Wednesday, Thursday and Friday night of my life doing something with you."
"No man could be as lucky as I am. All my life I've dreamed of someone even halfway approaching the standards you represent. And now – you are my wife. I certainly must have a guardian angel."
"Just how much does your mother know about me? To agree to let you work in Corpus, it sounds like she knows we're already married. It wouldn't surprise me a bit if she did."
"Of course, when you come down, there's still going to be people we have to keep our marriage a secret from. Too many people would like to be able to spread something like that around, and get me kicked out of the program."
Some of the words are a little smudged. It looks like tear drops fell on the ink.
And then, when my mother was student teaching in Havelock, North Carolina – not living at the sorority house, he addressed a letter postmarked April 21, 1966, to:
"Miss Patricia Rouse (J.)"
I noted that this letter arrived "POSTAGE DUE 5 CENTS".
Inside the letter, he begins, "Dear Mrs."
"I got to thinking the other day that it would be nice to wait and have a big wedding, but immediately decided it's much more important for you to be down here. Maybe we could have a big reception in Fayetteville after we're through down here. That wouldn't be funny or anything, would it?"
"Well, Mrs. Jackson, I'd better study for these two hops [flights] in the morning
….
Your loving husband, Elbert"
They secretly eloped! When? How? It must have been over the long Christmas break, when there were no letters. But, he hadn't said anything about the event in January. Had they even kept it secret in correspondence?
Then I opened the letter postmarked April 26, 1966:
"Tomorrow we will have been married four months. I wish it were four years, and we didn't have to worry about everyone finding out."
My parents married in secret at the end of December, 1965. I never, ever suspected they had a secret like that. Never. Ever.
Then I remembered a phone call with my mother when I was in college. It was so weird and awkward that I often joke about it with friends.
I had been dating a guy for about seven months and was telling her about a trip we took to Nashville. She got very quiet and then asked me in a low whisper, "Megan, are you two… married?"
I said, "What?! No. I think I would tell you about that."
She was silent for another space of time and then sounded perturbed, "You know what I'm talking about. Are you two married?"
I didn't know. "Mom, we didn't run off to Dillon, South Carolina to get hitched. No. What's wrong with you?"
The conversation led us to talk about the sin of intimate premarital relations.
She asked me point blank about the status of our consummation. I made the case for being a college student in the early 90's.
She bemoaned her sinful daughter. I told her not to ask questions she didn't want to know the answer to.
She wailed. I asked her if she would prefer that I lied, that I kept my life secret from her.
She said, "No. I want to know about your life. I just… I guess I have a hard time with the way you young people live these days. Why can't you just wait till you get married?"
Those vinyl boxes contain no letters from my mother, only my father's responses to her actions, to unmentioned quarrels, to vaguely defined trouble with parents. If I fill in the gaps with what I know of my mother's personality, of anecdotes from old friends and of the culture of North Carolina in the mid-60's, I can see her feeling troubled about the limbo of being just a girlfriend. His pilot training dragged on and on and he had to do what the Navy told him. I can see her being willing to elope just to make their union legitimate. They were 22 and 21 when they got hitched, not kids, but they still had parents and social expectations.
When the rest of American culture shifted during the late 60's, and then more in the 70's, then the 80's, and even further in the 90's, my mother didn't accept that social standards could change. That's a big reason why she resisted getting a divorce from my dad, even when his drinking made him emotionally abusive and physically unpredictable. She would tell me over and over that she made a promise to God, she wouldn't break it.
I thought it was because of guilt that my mother kept accepting his late-night phone calls, kept trying to solve his problems, years after the divorce. And, our conversation about my college relationship seemed to justify that. But, after reading my dad's letters yesterday, seeing it through his eyes, I don't think it was just stubborn morality.
Back in 1966, there was only one more letter from my father before he left for a summer on the aircraft carrier, postmarked May 4, 1966.
It included this check:
"Everyday of our life, 19-forever, No. 1 and only
PAY TO THE ORDER OF Mrs. Patricia Rouse Jackson
$1,000,000 worth
All the love and affection, care and protection possible
FOR Being so wonderful"
"Dearest,
I miss you terribly. When will these horrible cadet days ever be over? My one goal now is to finish as quickly as possible so that we may properly be man and wife, living together."
"I'm sorry I sounded so depressed when I called you. It's just that talking to you and not being able to be with you is terrifically maddening. My temper will definitely improve after I finish. Well, Mrs. Jackson, your husband has a link, a hop and a lecture to study for tomorrow, so au revoir.
I love you,
Elbert"
My parents didn't live another five years after they divorced. They couldn't leave each other alone. My mother died just four months after my father. Even though they lived hours apart and had nothing but volatile encounters, she seemed to lose the will to live once he was gone. She told me she was furious that he went first, that he left her alone. At the time, it sounded like madness. I understand a little better today.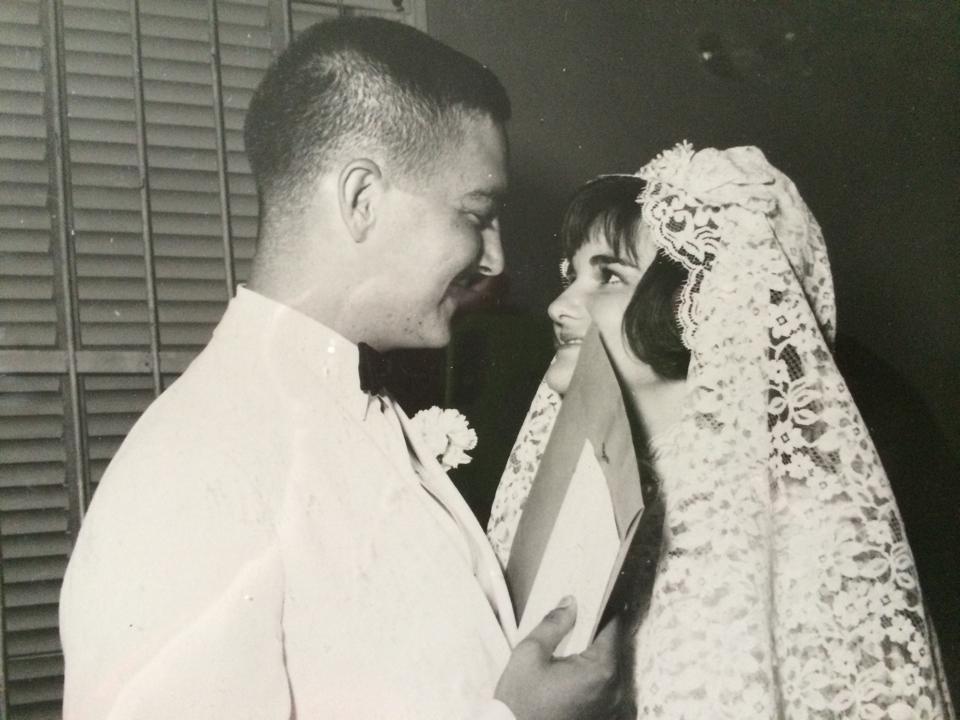 My parents, and possibly their mothers, took the secret of their early wedding to their graves. I couldn't keep the secret for 24 hours. Why?
Because it doesn't seem like a shameful secret. There's got to be a statute of limitations on young love.
Because I've been berating myself for not reading those letters right away. If I had, I might have been more compassionate about my parents' tortured love.
Because I wish for everything that I could hear the story of their first wedding. I'd love to hear how they snuck off, why they did it, what they thought.
In my career as a radio interviewer and producer, I heard hundreds of stories about the pain of secrets. I'm currently producing a storytelling show where many of the tales revolve around hiding love. But, in every instance, when the secret is set free, the truth acknowledged, forgiveness allowed, a miraculous transformation occurred.
Some secrets, like the contents of a Father's Day gift, make for a fun surprise. Other secrets need to be told. Early. Often. And when you have the chance.