My father's autopsy was filed under "Birth Certificates" in my box of important papers. I ran across it accidentally during a start-of-the-year organization flurry a couple weeks ago. He died eleven years ago today.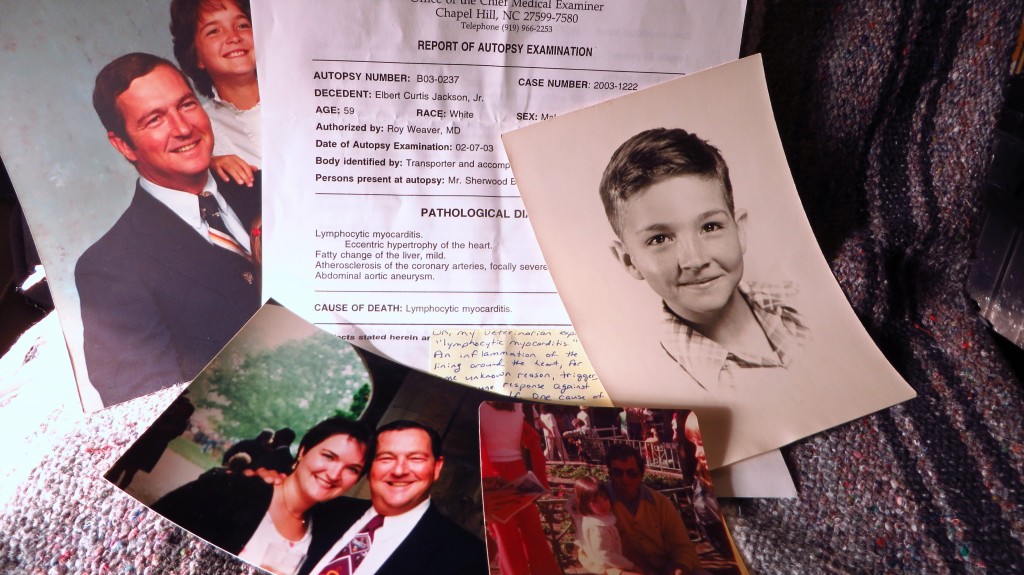 There's a post-it note on the autopsy from my sister telling me that "my veterinarian explained 'lymphocytic myocarditis'. An inflammation of the lining around the heart, for some unknown reason, triggers an immune response against the heart itself."
That's the best medical explanation for why he died, but the summary and interpretation at the end of the report reveals why I never tell people my dad died from 'lymphocytic myocarditis'.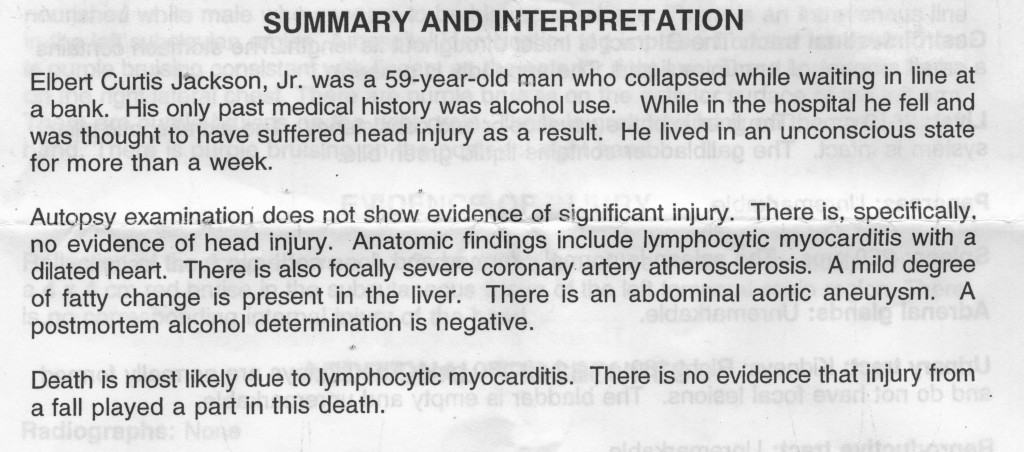 "Alcohol use" is my usual response to, "How did your father die?" I also add, "Plus he was bipolar."
He was drinking heavily in those last months before his death. Drinking heavily, and then stopping abruptly without the proper detox, drying out, and then drinking heavily again. While my father was in ICU in "an unconscious state", a friend of his from Alcoholics Anonymous stopped my two sisters and me to tell us how bad things had been during that time. My father was despondent and no one was able to give him the help he wanted, and he wouldn't take the help he needed.
At one point, my father drove his late model Jaguar down to Pensacola, Florida, where he went through flight school to be a fighter pilot. While he was there, the car got stolen, so the story goes, and he hitchhiked back to Fayetteville.
When my dad collapsed he was in line at the bank waiting to deposit a large check from his mother. He started having seizures in the bank and was rushed to the Emergency Room. Evidently, he wasn't strapped to the bed in the E/R and got up to leave, fell, hit his head and died. The E/R staff spent twenty minutes resuscitating him. They got a heartbeat – he was technically alive – but he never regained consciousness.
My sister called me here in Tacoma to tell me what happened the same day the Space Shuttle Columbia exploded. She told me no one was certain whether he would ever wake up or if he might need to be put into a care facility in a vegetative state.
The one thing I knew for certain at that moment was that my father wanted to be dead. As his mental illness got worse, he would occasionally call me at work, frantic to speak to me "while my head is clear". He'd tell me he loved me and then he would tell me over and over that if he should ever end up on life support, he wanted to be allowed to die. He told both my sisters and me that he had a living will and he expected us to enact it. However, with Daddy lying in limbo the living will was nowhere to be found.
My sister scoured his apartment. He lived a few blocks from his mother in a historic brick building. His family paid the rent. They even bought him a couch and lamps to decorate, but he never took the price tags off. It was immaculately clean and reeked of cigarette smoke.
Even though his behavior was erratic, he kept precise records of everything. When my sister checked his file cabinet for the living will, she found documents of his volatile relationships with banks, being fired from doctors, tirades with various companies about unfair treatment. Each encounter was in its own folder with handwritten labels that said "The Triangle Bank Disaster", "The Fiasco with Dr. So-and-So", "The Diamond Services Debacle". Never fully understanding his illness, things like that always made me think he was faking, that he was playing some elaborate hoax.
The living will wasn't in the file cabinet, though, and my sister couldn't find it in the safe on the floor of his closet. Finally, she called me to talk over our options if we couldn't find it. I said, "Well, I know he doesn't want to be in that state. I mean, are we not allowed to kill our father?" Dark humor is a hallmark of our family and a gift I inherited from my dad.
In fact, we did have the right to make the call about leaving him on life support. My father's mother and sisters supported us in making the decision. Talking to me on the phone, though, my sister said she'd feel a whole lot better if she had his official paperwork.
I suggested she sit at his desk and think like him, "He was so persistent in telling us about it, he had to put it somewhere obvious." My sister sat in his rolling arm chair and spun around as we talked, then she said, "AHA!" From the angle where she was sitting, she could see that my dad's closet safe had a thin shelf at the very top. It was the kind of thing you wouldn't see if you were standing up and looking into it, but it was, indeed, obvious when you put yourself in my dad's place.
Our family life had been on the decline for a while. I like to think it's a William Faulkner kind of downfall, but it's probably better suited for a Pat Conroy paperback. Before my parents got divorced in 1998, I would wait for the phone call to tell me they died in a murder-suicide. I could never decide who would do which part.
My dad, the bipolar alcoholic, and my mother, the three decade Multiple Sclerosis patient, had a relationship built on biting comments, sarcastic comebacks and tragic misunderstandings. Even though they got divorced, my mother and father could never let each other go. In those last five years of their lives, they still fought on the phone regularly and my dad would occasionally drive the three hours from his place to my mother's apartment in Columbia, South Carolina, just to knock on her door, say something nasty, and drive back home again. I think that was how they loved each other.
I got a flight on Monday, February 3 and met my sisters in Fayetteville. My mother was too sick to make the trip, so we updated her by phone.
On Tuesday, we went to the hospital with the living will in hand and weren't afraid to use it. In fact, I think our casual jokes about the whole situation disturbed one of his doctors, the one from India. The doctor from Fayetteville, though, the one who knew Daddy, gave us a compassionate smile when we laughed and said, "Good news! We're gonna let him die!"
There was time for us to sit with my father, for his mother to sit with him, for his sisters to sit with him. One of his sisters recounted their father's last days. He was a tyrant of a business man, successful, generous, but with a vicious temper. She said she asked him why he never told his children they did a good job at anything. My grandfather told her, "Because I thought that would make you stop trying."
My grandmother sat in the room, but only by the door. I never saw her touch him. She looked down and said, "You think you're doing the right thing…" It was the same day that President Bush spoke at the Space Shuttle Challenger memorial. She said she thought the President's words were so kind – and then she started to cry. I went over to comfort her, which was the total wrong thing to do. She dried up, picked up her chin, and left.
It was Wednesday afternoon by the time we had everything cleared for my father to be taken off life support. The hospital set him up in a private room and let us know it might be hours, days, even weeks. There was no telling how long he'd live because at that time we weren't even sure why he was dying. We had the account of his fall in the E/R, but no clear sense of what was really wrong. He had no brain function, but his reflexes remained strong. We hoped the final autopsy would answer the question.
Once he was off the ventilator, my father's breathing got more labored. He had been a smoker since he was twelve, so it didn't sound that different than usual.
My sisters and I planned on taking turns sitting by his side. We knew that he could hear us, if he was alive enough to understand it, so we tried talking to him even though it felt like we were just pretending he was listening.
My dad wasn't always such a mess. He was wickedly smart, a Mensa member, a pilot, a businessman, a salesman, a City Councilman, a church choir member, an actor in community theatre and military training movies. He had a rich, booming voice and loved to dance and tell jokes. Looking at him in the bed I was mostly angry that we didn't get a chance to say goodbye. So much of his life had been like a movie, but in the end we didn't get the cinema farewell, the chance to make peace. It didn't seem a fitting end for his life.
Before we even had the chance to take shifts, though, it became clear my father wasn't going to live for days or even hours. His breathing got weaker and his breaths farther apart. My sisters and I held tight and one of his sisters showed up in the room. The four of us held hands and stood around his bed.
I timed his breaths by the sweeping second hand on the clock. Twenty seconds, thirty seconds, his breaths got farther apart. Then his chest was still. We waited, but he didn't breathe again. It was so subtle, the transition from life to death. There was no dramatic moment, just a slow slipping into the ever after. He was gone.
The door to my dad's room was open, but we didn't think about closing it. We were too focused on him, shocked into stillness by what happened. So, it was a surprise when a woman walked past, stopped and poked her head in the doorway. She said, "I'm just down the hall visiting with a friend and the Lord called me to come and be with you ladies." I think we all wanted to close the door, but this being the South we simply couldn't. That would be rude. Even in death, hospitality rules.
We all gave her weak smiles, but couldn't say anything. She stepped into our circle, took our hands, closed her eyes and began to pray with passion and no concern for her volume, "LORD, comfort these women at this time of sadness. Let them know that this is YOUR plan, that YOU know what we need and what is right. Don't let them worry about this man who they love so much, let them know that YOU will take him now, that YOU are the ALMIGHTY and that YOU love every one of us…" She went on and on and mostly what I remember is peeking through the prayer and exchanging glances with my sisters, holding back giggles.
The woman went on for several minutes before concluding and giving each of us long, hard hugs. We barely hug each other in my family, we were not prepared for this stranger. She held our hands again before backing out the door, glancing down the hall and quickly walking in the other direction.
There was nothing left to do but alert the staff and get the final preparations started. As we filed out of the room, though, my younger sister said, "Wait. Just wait. Just stand here for a minute." So we did. We stood, looking at each other, glancing back at my dad's body, waiting for her to say something. After about ten seconds she said, "Okay. We can leave. I just didn't want that woman to be my last memory of Daddy."
If asked, we wouldn't have chosen to have that woman's prayer at my father's final moment. However, I think it's what he wanted. He loved the outrageous display, the dramatic flair. He had no problem making a scene. For him, bigger was always better.
We planned a fitting funeral for my dad with a bagpipe player and an organ rendition of "When the Saints Go Marching In". Friends who had witnessed his decline came to try to remember who he used to be. My mother's mother came, even though he had been especially nasty to her, and told me, "I didn't realize your father was so sick. I just didn't know that he was really that sick." She spoke the confusion that had been in the back of my mind as well. Mental illness is an illness, but it's not always clear what that means until someone dies from it.
After the funeral, we waited more than two weeks for the autopsy, hoping it would reveal something about my father's death, some hidden something that would explain everything. Perhaps the coroner would discover the reason he fell apart. Instead, we got the report that I quickly filed away in my important papers, a report I didn't look at again  until a couple weeks ago.
Eleven years later, 'lymphocytic myocarditis' tells me nothing about what made such a gifted, big-hearted man spiral into such a mess. In all this time, I've looked at photos and remembered the good and bad times, but I've never been able to come up with a satisfying reason for why he had to die. So, today I dug deeper into the memories from that time that I locked away out of grief. I found the eulogy I gave for my dad.
I remember desperately wanting to be the one to give the eulogy. I didn't want anyone else to get up there and apologize for him or lament everything he wasted or talk about how God would forgive him. I had been mourning the loss of my father for more than ten years by the time he died and I wanted to find something positive to say about his whole life.
I also remember feeling woefully under-equipped to put a positive spin on his death. Reading it now, I see how much my early training in speech and debate influenced my script. But, eleven years later, I think it may finally be time to take my own advice from 2003.
Here's what I said:
DADDY WAS USUALLY THE ONE TALKING.
 AND THAT WAS THE GREATEST GIFT HE WOULD GIVE – TALKING TO YOU.
WHEN HE SAID, "UH. LEMME TELL YOU SOMETHING" – YOU KNEW IT WOULD PROBABLY BE WORTH YOUR TIME.
 YOU ASK ANYONE ABOUT ELBERT, OUR DAD, AND THEY WILL LEAN THEIR HEAD BACK, CLOSE THEIR EYES AND SMILE. THAT MEANS A STORY'S COMIN'. DADDY HAD A LOT OF STORIES AND THEY ARE ALL PRETTY REMARKABLE. YOU SEE, DADDY STEPPED OUT OF THE PAGES OF A GREAT NOVEL, ONE THAT HE WROTE THROUGH LIVING. AND WE SHARE IT WITH OTHERS BY TELLING HIS STORIES.
 WE ALL KNOW THAT HE WAS PROUD OF SERVING AS AN F-8 FIGHTER PILOT. THEY DON'T LET JUST ANYONE TOOL AROUND WITH A SUPERSONIC JET AND THEN LAND IT ON AN AIRCRAFT CARRIER. SOME OF YOU HERE TODAY KNOW THE ADVENTURES FROM THOSE DAYS.
 PLEASE, SHARE THOSE STORIES.
•   HE ONCE HITCHIKED AROUND THE COUNTRY
•   HE COULD LOOK ANYONE IN THE EYE AND SELL HIM A MATTRESS, A CAR, AN ANTIQUE COUCH, A WATCH
•   HE WAS A VERY GOOD GOLF PLAYER, A PHOTOGRAPHER AND A FISHER
•   HE HAD THE WORLD'S LARGEST VOCABULARY AND COULD DO THE NEW YORK TIMES CROSSWORD PUZZLE – IN PEN
•   HE TOOK UP ACTING AT THE AGE OF 46. NO PART WAS TOO SMALL FOR HIM TO HAM IT UP. HE WAS MARK TWAIN, THE BUTLER WHO DIDN'T DO IT, JUST A GUY ON THE TRAIN… IF YOU NEEDED A MEMORABLE ENTRANCE OR A ONE-LINE ZINGER TIMED JUST RIGHT – HE WAS YOUR MAN.
IF YOU KNEW ELBERT THE ACTOR, THE SALESMAN, THE PILOT… SHARE THOSE STORIES.
BECAUSE THAT'S REALLY WHAT IT COMES DOWN TO – SHARING THOSE REMARKABLE TALES.
WE LOOK BACK ON DADDY'S LIFE, AND IT IS A KALEIDOSCOPE OF ACCOMPLISHMENTS AND ESCAPADES – NOT A ONE OF THEM SMALL, TENTATIVE OR BORING.
IF ELBERT WANTED TO DO IT, HE DID IT WITH GUSTO. WE HONOR HIM BY SHARING THOSE STORIES.
WE CELEBRATE HIM BY SHARING THE TALES OF DADDY, ELBERT, ELBERT CURTIS, MR. JACKSON.
HOW DO WE MAKE SENSE OF THE THINGS THAT HAPPEN IN LIFE?
HOW DO WE ARRANGE THE JUMBLED FRAGMENTS?
BY REMEMBERING THE DETAILS.
I SEE HIM STANDING IN THE SUN, BESIDE HIS CONVERTIBLE FIAT, VIVALDI BLARING OUT OF THE STEREO, AVIATOR SUNGLASSES, BERMUDA SHORTS AND KNEE SOCKS.
IT'S A DETAIL, A MOMENT.
WHAT'S YOUR PICTURE?
NO ONE PERSON CAN SUM UP HIS LIFE. IT'S UP TO ALL OF US TO SHARE THE ELBERT WE KNEW WITH ONE ANOTHER.
OUR LEGACY IN LIFE COMES FROM WHAT WE HAVE DONE FOR OTHERS,
AND ELBERT DID WONDERFUL THINGS.
LET'S HOLD DEAR THE GOOD TIMES WE HAD WITH HIM AND SHARE THOSE TIMES AND KNOW THAT ELBERT WAS A GOOD MAN AND WE LOVED HIM – ALL OF US.