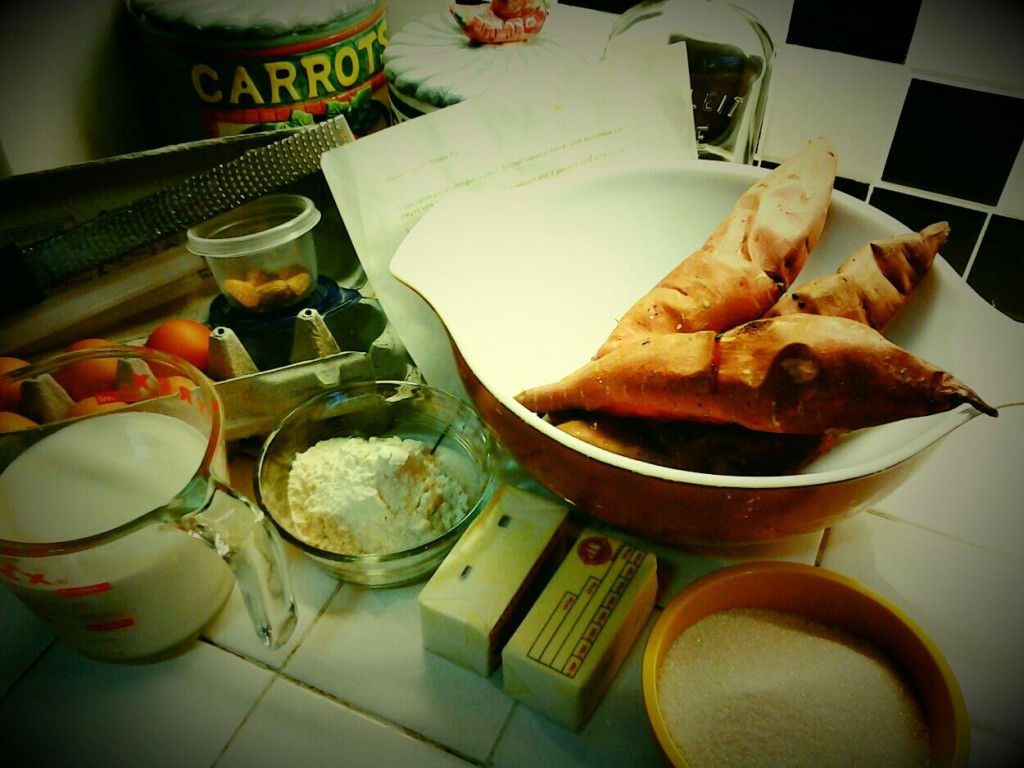 "Don't give this recipe to anyone," my sister wrote in the e-mail, "You can give them a different recipe and let them wonder why it doesn't turn out as good as it does when you make it."
Keeping a secret is not my strength. I like to tell people that's why I went into radio, so I could at least make a living by spilling the beans. But, Eloise's recipe for Sweet Potato Pie is sacred.
Eloise was a family friend of my brother-in-law down in Greenville, Mississippi. My sister only got the recipe because she married into the family. I got the recipe because I cried like a baby until she told me. So, despite my delicate condition surrounding confidentiality, I won't be sharing the official preparation.
However, hiding something this wonderful from the rest of the world just seems like cruelty. If I could, I'd make this pie for every person I meet. My son has suggested that the pie could be my next career, just a pie stand with slices of this. I won't be doing that.
As for my sister's suggestion that I share a different recipe, well, I couldn't bear someone to make this for themselves and then doubt that I could write a good recipe. So, since I can't keep such a delicious, transcendent dessert all to myself, and since I'm fit to burst with wanting to share a secret, I will share my own version of the pie. This is actually how I make it most of the time because the secret recipe is so decadent that I can't even bring myself to make it more than once a year. This isn't Eloise's pie, but friends still eat it with big smiles and bigger mmmmmm's.
A couple secrets that I employ:
1. Roast the sweet potatoes in a 400 degree oven for an hour or hour and a half. I find this makes them even sweeter than if you boil or microwave the potatoes. I always get garnet sweet potatoes, poke them all over with a fork and leave them in the heat until the sugary syrup starts bubbling out of the holes.
2. The recipe calls for vanilla, but I also add a teaspoon of another, secret flavoring. (Hint: It rhymes with "Frisky", which, incidentally, is how anyone you share this pie with may feel about you.)
SWEETIE PIE
2 medium-size sweet potatoes, cooked and mashed
1 stick butter, melted
0.75 cup sugar
3 eggs, well beaten
1 cup cold milk
3 Tablespoons flour
0.5 teaspoons nutmeg
1 teaspoon vanilla
+ Preheat oven to 400 degrees
+ Have ready a pie crust, already in the pie pan
(Another secret, I use Marie Callender's frozen, in-pan, pie crusts. My grandmother would tsk at me, but this is one shortcut that saves my sanity.)
+ In a large bowl, mix mashed sweet potatoes and butter
+ Add sugar to sweet potato/butter mix, stir until well incorporated
+ In a separate bowl, whisk flour into the cold milk. Whisk *really* well, so that there are no flour clumps.
(If a few small lumps get in the pie, it's not the end of the world.)
+ Mix flour/milk mixture into the potato/butter/sugar mix.
+ Mix nutmeg and vanilla (and that secret 'Frisky' ingredient) into the mix.
+ Pour mixture into pie crust
(One more secret: I often have a little more filling than can fit into the pie crust. This stuff is too good to throw away and the raw eggs make it a bad idea to just slurp it up with a straw. I will pour the extra filling in a buttered glass ramekin and bake it in a bain-marie beside the pie.)
+ Bake pie at 400 degrees for 35-45 minutes, until the filling puffs slightly, the center looks firm and the top is just a little brown at the edges.
+ Let pie cool for 30-45 minutes before serving.
This pie is lovely with a huge dollop of fresh whipped cream. I have fallen in love with making my own whipped cream, but there is absolutely nothing wrong with Cool Whip. That said, I always follow this piece of my sister's advice (since I don't when it comes to secrets), "Try a slice first without cool whip to get the full effect."