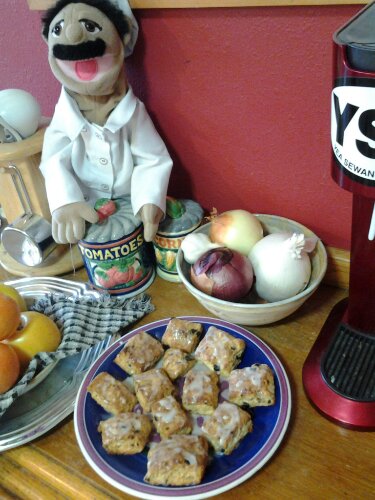 For my son's eighth birthday, he wanted Bo-Berry biscuits.
We live thousands of miles from the nearest Bojangles'. I can't swing the airfare for drive-through. But, once he put Bo-Berries in my brain, I started jonesing for the sweet and savory treat.
Help me, food blogs, you're my only hope.
First, I saw this Bo-Berry recipe from a former employee. That's how I learned Bojangles uses blueberry-flavored pellets rather than real blueberries. I should have guessed this. Did I really expect purity from a fast-food restaurant?
That revelation may or may not affect my consumption of future Bojangles' biscuits. However, it definitely gave me the confidence that I didn't need to be dazzling to make something even better. After all, I'd at least use real dried blueberries.
Dried blueberries. That's the trick. Frozen or fresh ones are just too juicy. Put in too many and the biscuits are soggy. Too few blueberries and you're just not getting the punch.
I pulled out my trusty "Joy of Cooking" and found a recipe that added some cornmeal to a basic biscuit dough. I like mixing in some kind of other whole grain to white flour breakfasts, like biscuits or pancakes or muffins. The treats still give me that nice weekend morning sugar rush, without getting loopy on the carbs.
These are the modifications I made to the "Joy of Cooking" recipe:
– I added 1/2 cup dried blueberries and the zest of one lemon to the dry ingredients.
– Since I didn't have buttermilk, I added the juice of 1/2 lemon to 3/4 cup half-and-half.
– I mixed up the biscuit glaze with 1 cup powdered sugar, the juice of 1/2 lemon, 1/2 teaspoon vanilla and 1 Tablespoon water (or so, just enough to make the glaze thin enough to drizzle over the tops of the biscuits, after they cooked).
Better than Bo-Berry Biscuits
+ Preheat oven to 450.
+ Have a baking sheet ready.
+ Mix these DRY INGREDIENTS in a large bowl:
1.5 cups all-purpose flour
0.5 cup cornmeal
2 teaspoons baking powder
0.5 teaspoon baking soda
2 Tablespoons sugar
0.5 cup Dried Blueberries
Zest of 1 lemon
+ Mix these WET INGREDIENTS in a separate bowl and let stand while you do the next step:
0.75 cup half-and-half (you could also use any kind of milk, but this makes the biscuits even richer)
the juice of 0.5 lemon
+ Thinly slice:
5 Tablespoons FROZEN butter
+ Using a pastry cutter, cut the thin slices of frozen butter into the DRY INGREDIENTS. When the butter pieces are about the size of the dried blueberries, use your fingers to smash the butter bits flat. This helps make the biscuits flaky. You don't want the butter to start getting soft or melty, though, or the dough gets gummy.
+ Add lemon/milk mixture to the butter/DRY INGREDIENT mixture. Use a rubber spatula to mix them together. You'll eventually have to get your hands dirty and knead the dough until it all holds together in a ball. It takes about 30 seconds of kneading.
+ Turn the dough onto a lightly floured surface, like the counter or a large cutting board. Pat the dough into a rectangle, about 0.5 inch thick.
+ Cut the dough into even squares, about 2 inches each.
+ Place biscuits on baking sheet. Put in preheated 450 oven. Bake 10-12 minutes.
+ Whisk together these ingredients in a small bowl for the GLAZE:
1 cup powdered sugar
Juice of 0.5 lemon
1 teaspoon vanilla
1-2 Tablespoons water (enough to make glaze drizzle off a fork)
+ Take biscuits out of oven and let them cool on a wire rack for 2-3 minutes.
+ Use a fork to drizzle the GLAZE over the still-warm biscuits.
+ Eat a few before you let anyone else know they're ready or you might not get any!
The result? Better than Bo-Berry Biscuits.
Sweet, filling and a little crisp around the edges, these biscuits fulfilled my homesickness without sending me into a full sugar crash. The eight-year old proclaimed them a success, and immediately asked for blueberry pancakes tomorrow.